The first season of the European Professional Online Go League finished one month ago - on May 17th. You can read a summary of it in the
recent Go news article
.
The second season will start on June 20. With this article I will try to explain the most important changes that have been made in the League. For more details please visit the
League webpage
.
1. Prize money
Thanks to the generous support of the European Go Federation, we now have some prize money. 1st place: 500 €, 2nd place: 200 €, 3rd place: 100 €. I am sure it will make the struggle even more severe, and thus more spectacular.
2. New participant
We will have a guest from the North America - Ryan Li 1p (Canada). I am sure most of you know who he is. Ryan is one of the strongest American professional Go players. In June 2017 in the MLily Cup he won a game against World champion - Chen Yaoye 9p. That remains one of the biggest ever achievements of western Go players.
3. New match format: BO3
BO3 means "best of three". This means that in case of 1:1 score in the first two games, then a third game will be played to determine the winner of the match. This way some of the streams will get longer.
4. Benefits for the supporters
It's possible to support the League financially through the
League Patreon page
. At the minute there are several levels of support which you can choose, and each level has it's own benefits. For example, participation in a simultaneous games session with the pro, or a private lecture. If you are interested - please visit the link given above.
5. Two commentators
After the semi-final and final match of the first season we realized that viewers prefer having two commentators instead of one. Besides that, the load of commenting work is shared between the two players. We will try to have two commentators always when possible.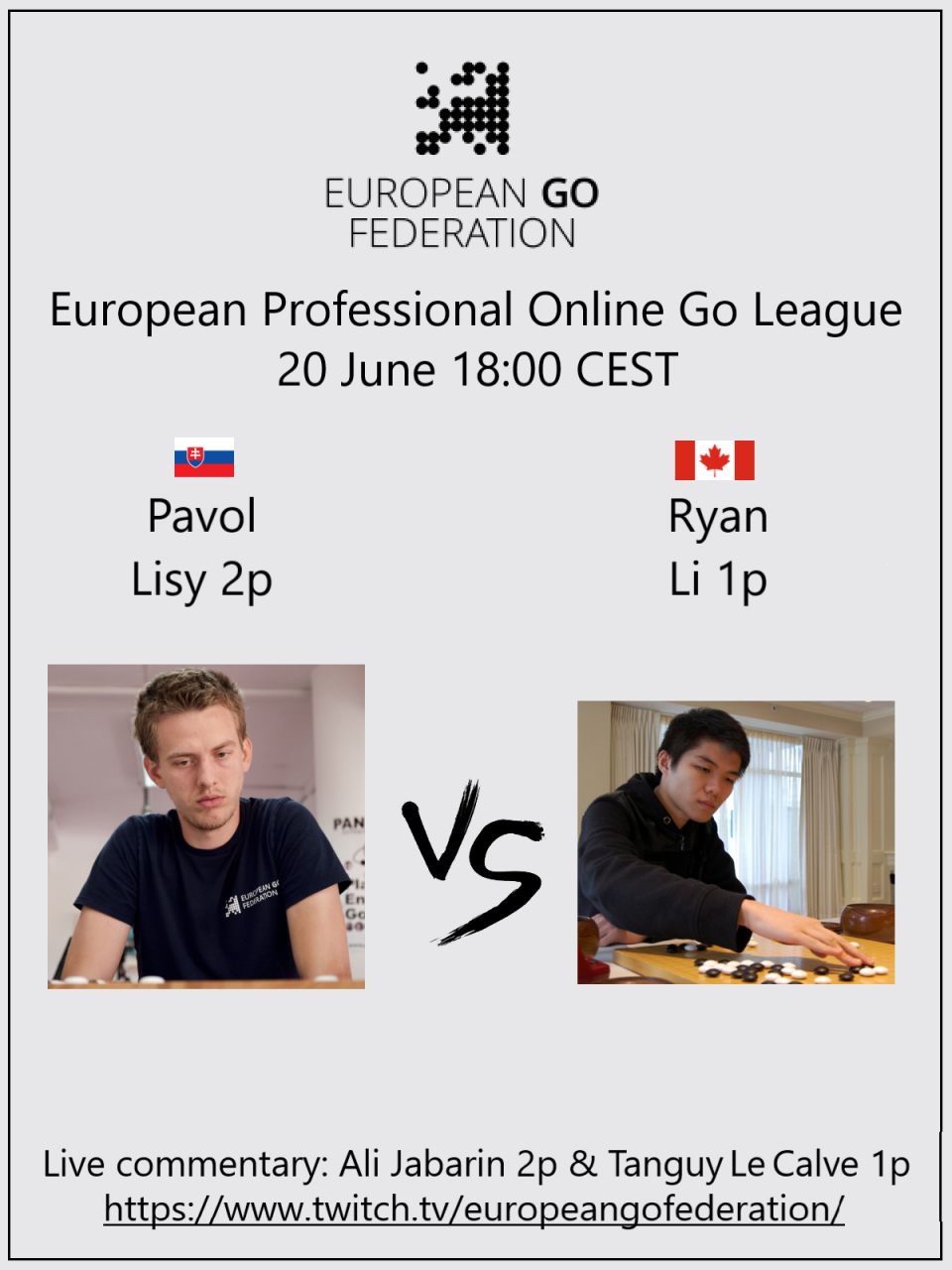 Same as before, we play each weekend at 18:00 CEST. The first match will take place on June 20:
Pavol Lisy 2p
(Slovakia) vs Ryan Li 1p (Canada). Commentary by
Ali Jabarin 2p
and
Tanguy Le Calve 1p
.
On Sunday, June 21, you can see the match between
Artem Kachanovskyi 2p
(me, Ukraine) and
Tanguy Le Calve 1p
(France). Commentary by
Ilya Shikshin 3p
and
Andrii Kravets 1p
.
Watch us live on the
EGF Twitch channel
.