EGF Ing Grant Report 2003-2004
Summary
Through the grant of $60000 received from the Ing Chang-Ki Weichi Educational Foundation in the year ending April 2004, work continued to promote Goe amongst children and to promote the Ing rules. Additionally receipt of Ing Goe equipment enabled Ing rules to be played where previously it was not, and for equipment to be available to children who otherwise would have none. For the continued support of the Ing Chang-Ki Weichi Educational Foundation, many Goe teachers and Goe players are extremely grateful.
Ing Chang-Ki Memorial Cup 2004
24 of Europe's top players traveled to Karlovy Vary (Karlsbad) in Czechia for the Ing Memorial. The top four players (all pros) ended on 5 wins and were sorted by tie break. First was Catalin Taranu, second Alexandr Dinerchtein, third Guo Juan and fourth Svetlana Shikshina. The group on 4/6 was Kulkov, Groenen, Pop and Mero. Representing the UK, 12 year old Li Shen won 2 games to place 16th; he beat Mero and Saifullin. A 56 player side event was won by Pei Zhao (6 dan Germany) on 5/5, with Jan Hora (5 dan Czechia) in second with 4/5.
World Youth Goe Championships
This was held in Shanghai in summer of 2003. Ing Fund money helped the European children by allowing support of extra team captains. The costs of the event itself were funded separately by the Ing Foundation.
European Youth Goe Championships 2004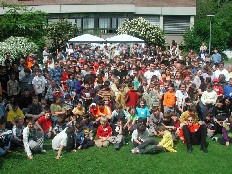 The European Youth Goe Championship was held in Cologne, Germany, from 30/04/04 to 02/05/04. 93 under-12 players and 184 under-18 took part and more would have been there if the large Ukrainian party and the party from Belarus had got their visa. Under 12 winner was Rafael Samakaev (6 kyu Russia) on 6/6, second was Thomas Debarre (3 kyu France) on 5/6 and Amir Fragman (3 kyu Israel) was third with 4/6. The top two will go to the WYGC in Vancouver, Canada. Under 18 winner was Ondreij Silt (5 dan Czechia) on tie-break from Ilia Chikchine (5 dan Russia) both with 5/6. Top of the group on 4/6 was Igor Nemliy (3 dan Russia). The top 2 and Thomas Hubert (3 dan France) and Floris Barthel (1 dan Netherlands) will go to the WYGC. Special guest representing the Ing Foundation was Mr Yang, a Taiwanese Pro, and from Japan was Mr Abe (9 dan). Yuki Shigeno, the 2 dan Pro living in Milano, described the event as 'Just perfect' and commented on how well it had been organised by Horst Timm and the many helpers from the Deutsche Go Bund.
Ing Goe Equipment
The Ing Timers and Goe Sets were despatched straight to the European Go Congress in St. Petersburg, Russia, where they were used to play the championship by Ing Goe Rules (as normal) and then distributed to former Soviet countries. Other countries receiving equipment were Sweden, Italy, Spain, Slovenia, Denmark and Scotland.
Investment
Continued support of European Goe has been provided by transfer some of the Ing Funds to investment accounts of the EGF.
Ing Grants 2003-2004
New projects for 2003-2004 were launched in Poland: a project to put Goe in Every School and a project to provide support for their Internet Goe Academy. New projects in Hungary and Romania, involving spreading Goe to many children, are about to start.
Previous Ing Grants
Many projects supported by the Ing Fund continue to flourish. In the United Kingdom the work started with the Hampshire Go Project has expanded to other areas, and the Cambridge Junior Club founded with Ing Funds is about to celebrate its 10th Anniversary.
European Youth Project
Based on an award winning scheme from Germany, the European Youth Project continues with about five countries (for example France and Czechia), to get Goe Boxes into schools, with Goe material and Ing Goe Rules.