5th European Grand Prix Finale 2021
The Grand Prix Finale 2021 is the culmination of all the Bonus Point Tournaments that took place over the year.
This year it will be held online, on the Online Go Server from the 22th – 27st January 2022. 16 players participate, both professional and amateur, and with the citizenship of an EGF member-country, qualified for the tournament by winning Bonus Points in the Grand Prix Series 2021.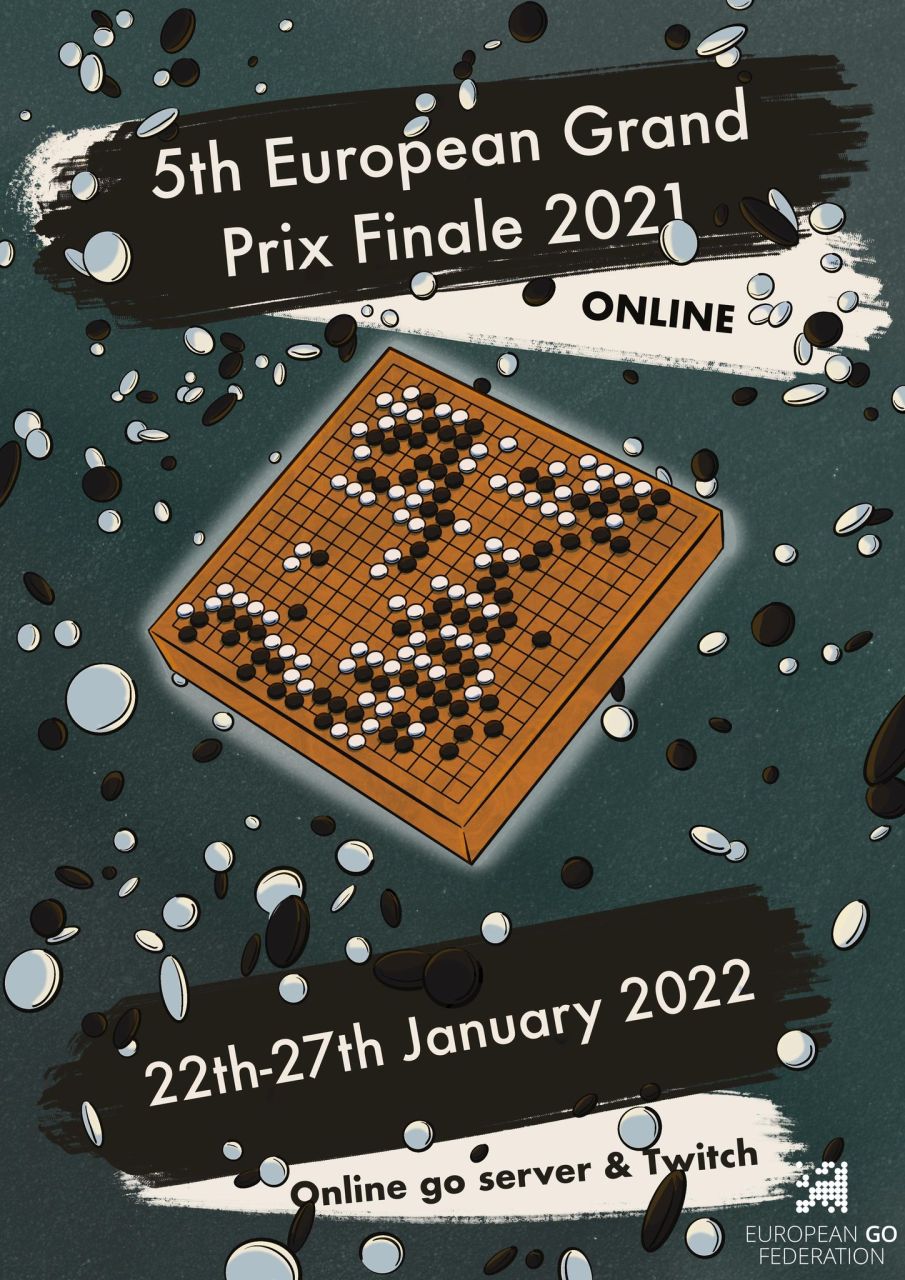 Date :
22th – 27th January 2022
Place :
Online Go Server
Poster:
Camille Lévêque
1st place:

Ilja Shikshin
, 4p
2nd place:

Pavol Lisy, 2p
3rd place:

Ali Jabarin, 2p
4th place:

Nikola Mitic, 7d

EGD: T220122H


Schedule
Thu 20th January

20:45

Opening / Drawing groups

Sat 22nd January
Round 1 (stage 1 in groups)
Sun 23rd January
Round 2 (stage 1 in groups)
Mon 24th January
Round 3 (stage 1 in groups)
Tue 25th January
Optional tie-break games (10:00 / 13:00)
Quarterfinal
Wed 26th January
Semi-finals
Thu 27th January
Final round, games for 1st and 3rd place
(time announcements in CET = UTC+1)

Players

Ali Jabarin, 2p
(
Avtikh
)

Anton Chernykh, 6d (AshesOfDreams)

Artem Kachanovskyi, 2p (artem92)


Benjamin Dréan-Guénaïzia, 6d
(
ben0
)

Ilja Shikshin, 4p (roln90)


Jan Prokop, 6d (jan.prokop)

Jonas Welticke, 6d (iryumika)


Lucas Neirynck, 6d (Cassis)


Lukáš Podpera, 7d (Lukan)


Mateusz Surma, 2p (mateusz.surma1995)

Nikola Mitic, 7d (nidza)


Ondrej Kruml, 6d (OndraKruml)

Oscar Vazquez, 6d (dacat1)


Pavol Lisy, 2p
(Palko)


Stanislaw Frejlak, 1p (Siasio)


Tanguy Le Calvé, 1p (Welvang)


Knock out bracket
Games will be played on OGS and at least rounds 5 and 6 will be streamed with commentary on Twitch.
Pairings / Results
Round 4 Quarter Final (25 January, CET) - four games

20:00
19:30
18:00
10:00
Artem Kachanovskyi -- Nikola Mitic
Pavol Lisy -- Mateusz Surma
Oscar Vazquez -- Ali Jabarin
Ilya Shikshin -- Lukas Podpera
0 - 1
1 - 0
0 - 1
1 - 0
Round 5 Semi Final (26 January, CET): - two games

19:30
19:00
Nikola Mitic -- Pavol Lisy
llya Shikshin -- Ali Jabarin
0 - 1
1 - 0
Round 6 - Final Round (27 January, CET): - two games

18:30
19:30
Pavol Lisy -- Ilya Shikshin
Nikola Mitic -- Ali Jabarin
0 - 1
0 - 1
Round 1 (22 January, CET):
19:30
11:30
10:00
10:00
14:00
18:00
12:00
19:30
Artem Kachanovskyi -- Stanislaw Frejlak
Ali Jabarin -- Benjamin Dréan-Guénaïzia
Ilya Shikshin -- Jan Prokop
Mateusz Surma -- Lucas Neirynck
Lukáš Podpera -- Anton Chernykh
Pavol Lisy -- Ondrej Kruml
Tanguy Le Calvé -- Oscar Vazquez
Jonas Welticke -- Nikola Mitic
1 - 0
0 - 1
1 - 0


1 - 0




1 - 0




1 - 0




0 - 1




0 - 1
Round 2 (23 January, CET):
12:00
19:30
14:00
10:00
18:00
13:00
19:30
19:30
Artem Kachanovskyi -- Benjamin Dréan-Guénaïzia
Ali Jabarin -- Stanislaw Frejlak
Ilya Shikshin -- Mateusz Surma
Jan Prokop -- Lucas Neirynck
Lukáš Podpera -- Pavol Lisy
Anton Chernykh -- Ondrej Kruml
Oscar Yazquez -- Nikola Mitic
Tanguy Le Calvé -- Jonas Welticke
1 - 0
1 - 0
1 - 0
0 - 1
0 - 1
1 - 0
1 - 0
0 - 1
Round 3 (24 January, CET):

20:00
12:00
10:00
19:30
16:00
18:30
19:30
19:30
Artem Kachanovskyi -- Ali Jabarin
Stanislaw Frejlak -- Benjamin Dréan-Guénaïzia
Ilya Shikshin -- Lucas Neirynck
Mateusz Surma -- Jan Prokop
Lukas Podpera -- Ondrej Kruml
Pavol Lisy -- Anton Chernykh
Tanguy Le Calvé -- Nikola Mitic
Jonas Welticke -- Oscar Vazquez
1 - 0
1 - 0
1 - 0
0 - 1
1 - 0
1 - 0
0 - 1
0 - 1


Group A
| Name | AK | AJ | SF | BDG | Rank |
| --- | --- | --- | --- | --- | --- |
| Artem Kachanovskyi | xxx | 1 | 1 | 1 | 1 |
| Ali Jabarin | 0 | xxx | 1 | 0 | 2 |
| Stanislaw Frejlak | 0 | 0 | xxx | 1 | |
| Benjamin Dréan-Guénaïzia | 0 | 1 | 0 | xxx | |
Round 3+ Tie-break games (25 January, CET)

11:00
Stanislaw Frejlak --
Benjamin Drean Guenaizia
0 - 1
14:00
Ali Jabarin
-- Benjamin Drean Guenaizia
1 - 0
Group B
| Name | IS | MS | JP | LN | Rank |
| --- | --- | --- | --- | --- | --- |
| Ilya Shikshin | xxx | 1 | 1 | 1 | 1 |
| Mateusz Surma | 0 | xxx | 0 | 1 | 2 |
| Jan Prokop | 0 | 1 | xxx | 0 | |
| Lucas Neirynck | 0 | 0 | 1 | xxx | |
Round 3+ Tie-break games (25 January, CET)
09:00
Jan Prokop --
Lucas Neirynck
0 - 1
14:00
Mateusz Surma
-- Lucas Neirynck
1 - 0
Group C
| Name | LP | PL | AC | OK | Rank |
| --- | --- | --- | --- | --- | --- |
| Lukáš Podpera | xxx | 0 | 1 | 1 | 2 |
| Pavol Lisy | 1 | xxx | 1 | 1 | 1 |
| Anton Chernykh | 0 | 0 | xxx | 1 | 3 |
| Ondrej Kruml | 0 | 0 | 0 | xxx | 4 |
Group D
| Name | TLC | JW | OV | NM | Rank |
| --- | --- | --- | --- | --- | --- |
| Tanguy Le Calvé | xxx | 0 | 0 | 0 | 4 |
| Jonas Welticke | 1 | xxx | 0 | 0 | 3 |
| Oscar Vazquez | 1 | 1 | xxx | 1 | 1 |
| Nikola Mitic | 1 | 1 | 0 | xxx | 2 |



Rules and Tournament System

Tournament System:
-- Similar to big sport events, a group phase (Stage 1) and final rounds (Stage 2), starting with 4 groups, each with 4 players
-- In Stage 1 each player has to play three games in a round-robin system within his group
-- The top 2 players per group qualify for Stage 2, where they play either one more round or three more rounds
-- No more games after Stage 1 for players ending 3rd and 4th place within their group
-- The tournament will be registered in the European Go Datababase (EGD) as a Class A tournament
-- Prize-money all over Euro 6.500,-
Mode of playing:
– For all rounds the playing day is fixed, but the players have to arrange the start of the games by themselves
-- The finally fixed schedule will be published on this webpage as soon as possible
– All games must be played with parallel running video-control (for example via Skype and mobile-phones)
Game parameters:
– Even games, chinese rules (7,5 komi), playing online on the OGS Go-server
– Fischer time: 45 minutes basic time, additional 20 seconds per move
--Tie-break games with Fischer time 20/10
– Nigiri in all games
Organisation:
– Tournament leader: Martin Stiassny, e-mail:
martin.go.europe@gmail.com,
+46 247 22406
– Controlling: Antti Törmänen
-- Randomly checking of games with appropriate software ("anti-cheating"), also on request
– Web publishing: Lorenz Trippel
System of pairing per group for Stage 1 (group phase, 4 groups (A, B, C and D) each with 4 players)
– 1. round: Player #1 -- player #3 and player #2 -- player #4
– 2. round: Winners against winners and losers against losers of the 1. round
– 3. round: Automatically defined in a round-robin system
Tiebreaks after Stage 1 (group stage)
– in case of 2 players with an equal number of wins after three rounds the result of the mutual game decides
– in case of 3 players with an equal number of wins (3/1/1/1 or 2/2/2/0) deciding games on 25th January with reduced thinking-time
– If after three games round robin all players are still equal (one won and one lost game), decision by won Bonus Points in the Grand Prix 2021

System of pairing for the three rounds in Stage 2,

-- 8 players are qualified, named A1, A2, B1, B2, C1, C2, D1 and D2

- 4. round: A1 -- D2, A2 -- D1, B1 -- C2 and B2 -- C1 (a knock-out round)
- 5. round: winner A1 / D2 -- winner B2 / C1 and winner A2 / D1 -- winner B1 / C2
- 6. round:
-- for 3rd place: loser of won A1/D2 vs. won B2/C1 -- loser of won A2/D1 vs. won B1/C2
-- for 1st place: winner of won A1/D2 vs. won B2/C1 -- winner of won A2/D1 vs. won B1/C2