CEGO Grand Slam 2022
Title: CEGO Grand Slam 2022
Date: 1st - 4th December 2022
Venue: Niš, Tami Residence Hotel
Address: Durmitorska 1, Niš 18000, Serbia
Host announcement:
Sponsored by: CEGO
Supported by: Go Savez Srbije

This is an invitation-tournament of the European Go Federation for 16 players.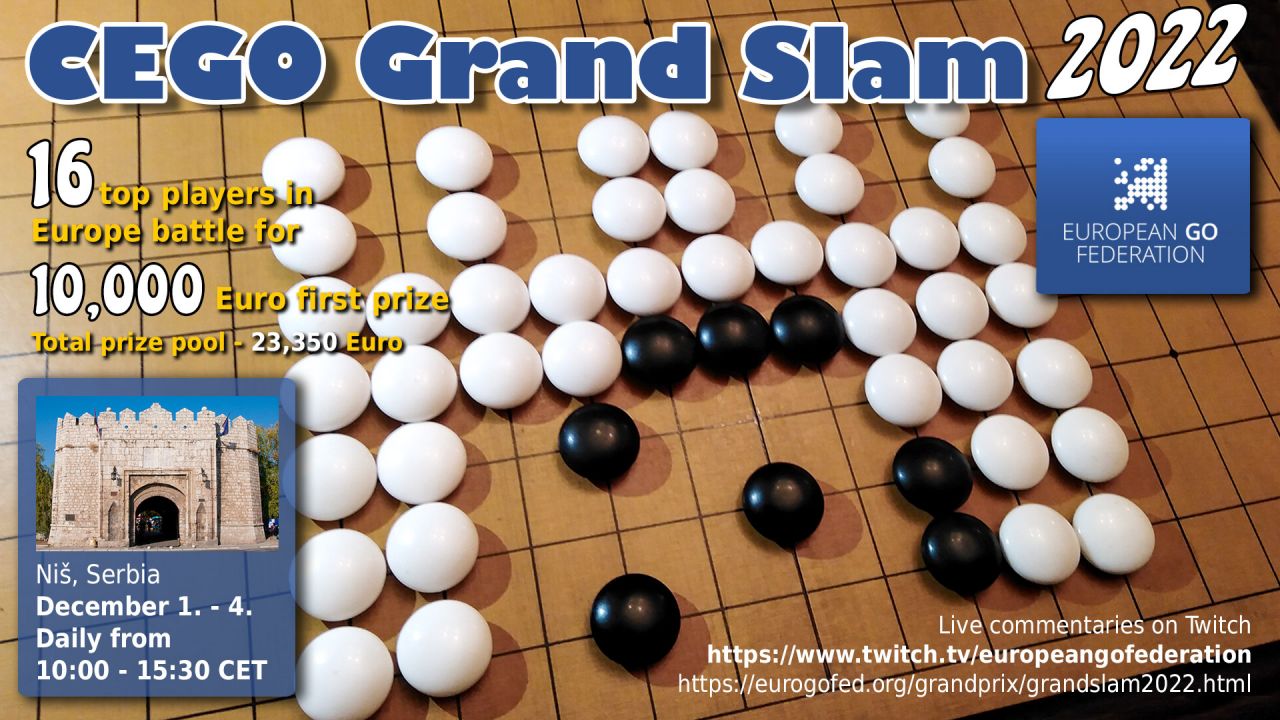 Pairings / Results
Sponsors:
CEGO


Tournament details:
Ruleset: Chinese rules, 7.5 Komi
Fischer Time: 80 minutes basic, 30 seconds additional per move
Thursday 1st December:
09:30
10:00 - 15:30
Opening
First round
Friday 2nd December:
10:00 ~ 15:30
Quarter-final
Saturday 3rd December:
10:00 ~ 15:30
Semi-finals and games for places 5-8

Sunday 4th December
10:00 ~ 15:30
16:00
Games for 1st, 3rd, 5th and 7th place
Prizegiving / Closing
The first 4 boards will be broadcasted on OGS, Userids GS22 - board 1,2,3,4
Prize money:
9th - 16th place: € 250
8th place: € 500
7th place: € 600
6th place: € 700
5th place: € 800
4th place: € 1.250
3rd place: € 2.500
Runner-up: € 5.000
Champion: € 10.000
Grand Slam tournaments are played with Chinese rules. The EGF guarantees broadcasting on the web, referees, and professional commentary.
Qualified players:
Artem Kachanovskyi, 2p (Ukraine)
Andrii Kravets, 1p (Ukraine)
Ali Jabarin, 2p (Israel)
Benjamin Drean-Guenaizia 7d (France)

Jonas Welticke 6d (Germany)

Lukas Podpera 7d (Czechia)
Mateusz Surma, 2p (Poland)
Pavol Lisy, 2p (Slovakia)
Stanisław Frejlak, 1p (Poland)
Tanguy Le Calvé, 1p (France)
Cornel Burzo, 6d (Romania)
Dominik Boviz, 6d (Hungary)
Elian Ioan Grigoriu, 6d (Romania)
Nikola Mitic, 7d (Serbia)
Dusan Mitic, 7d (Serbia)
Fredrik Blomback, 6d (Sweden)
Tournament for 16 players
Each player must be a citizen of an EGF member-country for at least 10 years
Each player must be "active" in the EGD
Qualification
7 Professionals certified by EGF*
3 spots for highest bonus points
1 spot for highest EGD (maximum value of the last 3 months) + bonus points
3 spots through qualification just before the Grand Slam
1 wild card (given by CEGO)
1 wild card (given by EGF)*
* Exceptionally a wildcard is given this year by EGF, because of the ban of Russian players.
Photos
Album (to be added during the event)