Obituary of Manfred Wimmer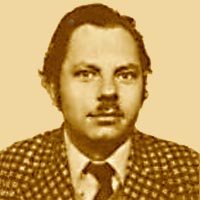 Manfred Wimmer was born in 1943 or 1944 in Austria. By the 1960s he become the strongest player in that country and took the European Championship twice (in 1969 and 1974) and placed high other years (second 1970 and later 3rd in 1994). He started studying Mathematics, but quit in the early 1970s in order to study Go in Japan. In 1978 he became the first Western player to achieve pro-status there, just beating America's Jim Kerwin to 1p, and was quickly promoted to 2p. He left Japan and the professional scene after an alleged sex scandle, and returned to Austria as a tour guide and then spent time in Kenya and finally Madagascar, where he spent the winter as a Go teacher. He suffered from kidney disease and high blood pressure towards the end. He suffered a stroke during a game of Go in Cafe Bauernfeld in Vienna on 23rd May 1995 and died later in hospital.
He was the author of two German language Go books: "GO, Teil 1: Einführung" and "GO, Teil 2: Elementare Techniken" and was originator of the so-called "Wimmer Joseki".