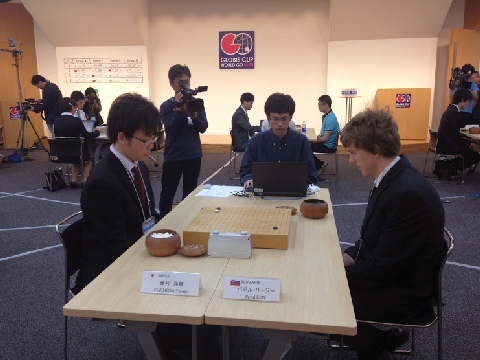 The GLOBIS Cup, a U20 world championship, played from 08-05-2015 to 10-05-2015 in Tokyo, Japan, was won by Huang Yunsong 4p from China.
Pavol Lisy 1p
, representing Europe, battled and lost to tough opponents in the preliminary rounds:
Yang Dingxin 3p (China) and Fujimura Yosuke 2p (Japan).
Result page (Japanese)
Result page (English)
But Pavol's journey in Japan wasn't over yet. The founder of the biggest Go school in Japan, Hon Seigen 2p, happens to be our EGF officer Li Ting 1p's best friend. His
Hon Dojo
has trained some well-known names such as Ichiriki Ryo and Fujisawa Rina. Mr. Hon always welcomes European players to visit Hon Dojo, so naturally Pavol was invited too.
All the while Pavol was followed by one of the most popular Japanese TV shows thanks to an unlikely coincidence. The crew randomly selected him at the airport and has been accompanying him during his stay in Japan.
Tomorrow, Pavol will meet up with
Ali Jabarin 1p
in Qin Huangdao, China, to participate in the
National Chinese Team Championship
from 11-05-2015 to 21-05-2015.
Tournament website (Chinese)
Pavol and Ali were invited to participate as guest players at this tournament. It will probably be tough for them, even accomplished professionals from China are struggling to get good results. Let's wish them all the best!