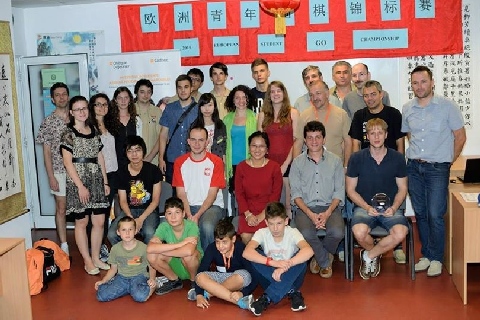 The European Student Championship took place in the Confucius Institute in Cluj Napoca, Romania, from 18 to 20 September 2015.


There were 14 participants from 8 countries, fighting for 1 spot of financial support to go to the World Collegiate Championship in Toronto, and one of the 4 spots to represent Europe in the 2nd World Student Pair Go Championship in Tokyo. Additionally, the tournament winner received an iPad mini, along with several gifts and a trophy. Prizes, the welcome party and free accommodation for the official representative of each country were sponsored by Up Romania and Banca Transilvania.


The ESGC 2015 itself was a tournament full of surprises!
In the first round, the favourite to win the tournament, Mateusz Surma 1p, was defeated by Alexandr Vashurov 5d. In the following rounds, two of the female participants made surprise victories against stronger opponents: Joanne Leung 2d defeated Mihai Serban 5d by 0.5 in round 2; Alexandr was taken down in round 3 by Julia Seres 1d, also by 0.5.
Meanwhile, Peter Marko 4d got a decisive win against Viktor Lin 6d, making the former the only undefeated player after 3 rounds. Although Peter lost to Mateusz in the fourth round, Viktor won against the latter in the last round, thus securing Peter the championship and the iPad (decided by SOS).

All results
The games of the top board can be found on the KGS account ESGC2015.
According to the final standings, European Student Champion Peter Marko chose to take one of the four spots for Tokyo, along with Alexandr Vashurov, Julia Seres and Joann Leung. They will form two pairs to represent Europe at the World Student Pair Go Championship. It will take place at the same time and place as the 26th Amateur Pair Go Championship. Website of Japan Pair Go Association


The World Collegiate in Toronto is open to all students, and Viktor Lin will receive financial support from the EGF to go there. It takes place from 7 to 13 July 2016.

(As a professional player, Mateusz Surma doesn't qualify for these tournaments.)

Another event for students, unrelated to the ESGC, is the 14th World Students Go Oza Championship from 22 to 26 Feb 2016 in Tokyo. The preliminaries will be held on Pandanet. Website