The Dutch Go Championships 2018 took place during the two weekends of 13-14 and 27-28 January in the European Go Cultural Centre. As is traditional, the championships consisted of a main tournament, the Dutch Women's Championship and the Dutch Youth Championships.
Previously, the Dutch Championship was characterised by a strict qualification procedure consisting of several successive tournament stages, finally allowing the best 16 Dutch players to compete. This year a new system was implemented, making the main Dutch Championship open to anyone with a Dutch nationality and/or any player that lived in the Netherlands for at least the last 2 years. The new system proved successful: a total of 49 players travelled to Amstelveen to compete in the Dutch Open, a number that is sure to increase in the years to come.
Harry Weerheijm and Judith van Dam from EuroGoTV were present to live broadcast the games from the top boards and to take pictures.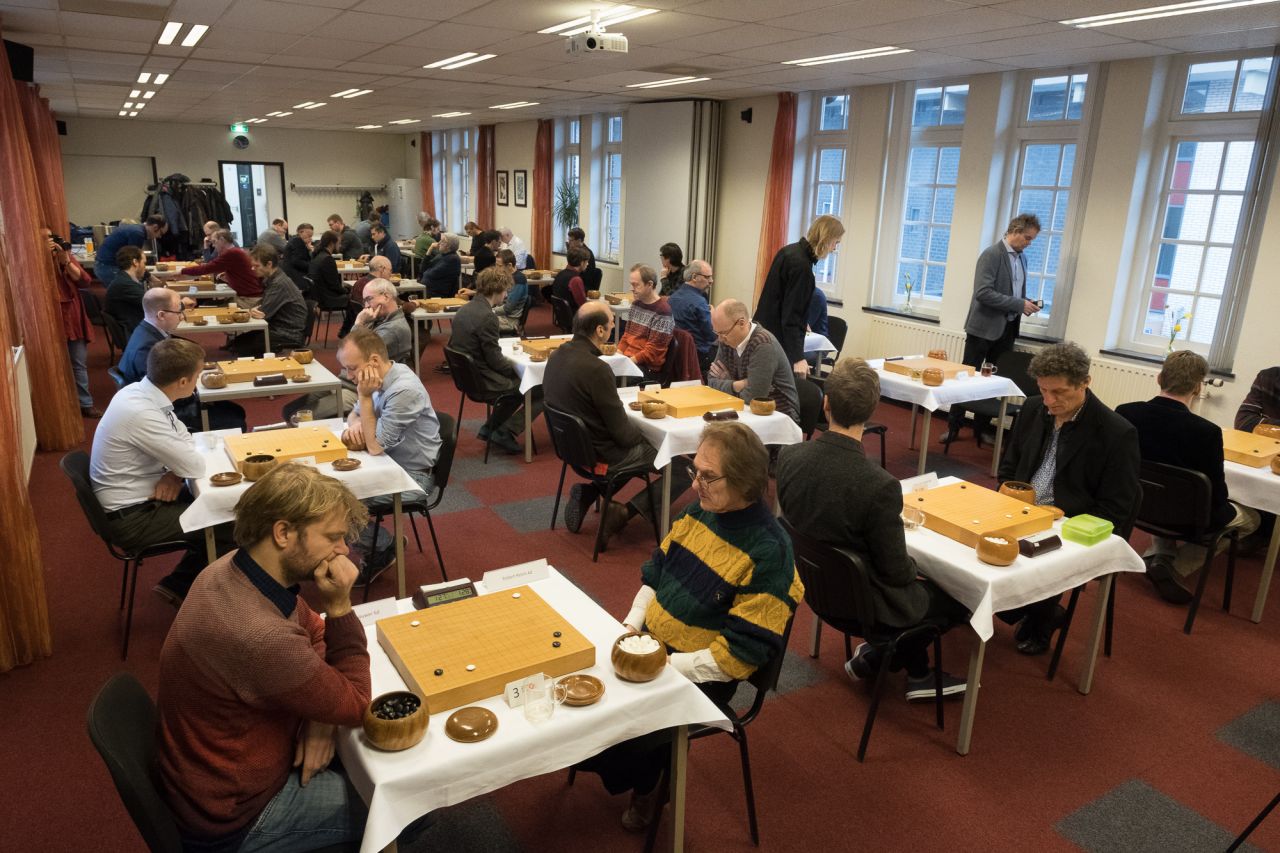 After a period of 37 years, Rob van Zeijst did it again! The three-time European champion (1981, 1990 and 1993) claimed his second Dutch title by defeating all opposition and scoring a clean 7 wins out of 7 games. By doing so he set a new record, making him the player with the longest period in between Dutch titles ever (1981 and 2018 respectively).
Winning the Dutch Championships was by no means an easy task, involving many close and exciting matches, such as the fight in the 4th round between Rob van Zeijst and Gilles van Eeden (for a game commentary, see the end of this article). In the final round, Rob faced Willem-Koen Pomstra 5 dan, another veteran of Dutch go. The opening was good for Willem-Koen, but Rob showed amazing fighting spirit and managed to turn the tables on his opponent. It resulted in a perished group of Willem-Koen, who resigned, much to Rob's relief, who thought the match was still playable.
This meant that Willem-Koen Pomstra took second place and then had to decide with Rob who of them would go to the WAGC in Japan and who would take the ticket to the KPMC in Korea. Surprisingly third place was taken by Rudi Verhagen 4 dan, who had an excellent championship with 5 wins out of 7 games and slightly higher SOS points than Robert Rehm 4 dan (4th place) and Michiel Tel 5 dan (5th place).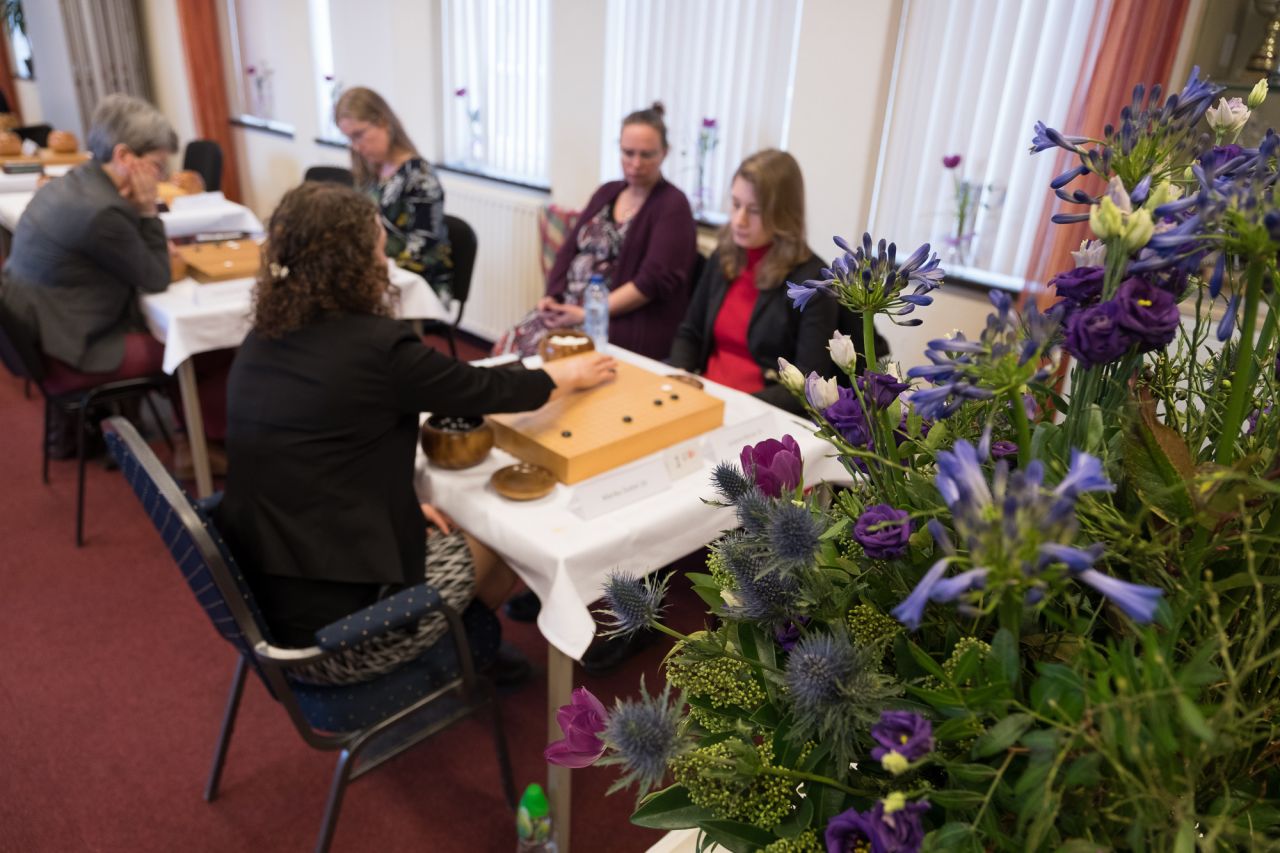 In the Dutch Women's Championship, five rounds were enough to determine the winner. Marika Dubiel 2 dan took the title for the eighth time in a row, an amazing performance. In defeating Justyna Klęczar 1 kyu in the final round, she showed no signs of nerves: after all, it had been Justyna who forced a nail-bitingly close Play-Off against Marika in 2017 (Marika won by 2-1). In 2018 Justyna Klęczar once again took second place, followed by Tamara Havik 3 kyu in third.

The Dutch Youth Championships were shared between Emil Riedeman 10 kyu and Tim Verhoeven 15 kyu, who became champions in the categories of Under 16 and Under 12 respectively.

Full results of the Dutch Open can be found in the European Go Database.
Full results of the Dutch Women's Championship can be found in the EGD as well.
A photo album of the tournament can be found on the Facebook page of the EGCC (166 photos by Harry van der Krogt and Judith van Dam) .
Interview with Rob van Zeijst
Born in 1961 in Apeldoorn, Rob van Zeijst moved to Japan in his early twenties, where he studied go as an insei (an apprentice aiming to become a go professional) and remained in the country ever since. In Tokyo, Rob combined his love for go with his profession as a Japanese translator. He wrote the weekly column The Magic of Go for the Daily Yomiuri Shimbun newspaper and became well known for his go books in English, published by Kiseido.
After several decades in Japan, Rob returned to the Netherlands in 2016. Since his return, he competed in the 4th European Professional Qualification Tournament in 2017, amongst other things, where he reached the Semi Finals.
We caught up with Rob for an interview:

Hello Rob, thank you for your time. Could you introduce yourself briefly?

No, I am afraid that is not possible. But if I limit myself a little, I could make an attempt. After becoming Dutch and European Champion when I was 19, I went to Japan the next year and decided to say farewell to my Theoretical Physics studies in order to study go as an insei and live in Japan. I lived in Japan for about 34 years, where I worked mainly as a technical translator and a court interpreter.

When and how did you start playing go?

I started at the age of 8 when I broke my arm and my father his leg in unrelated accidents. I could not attend school and he could not go to work. So we had plenty of time and we played chess, checkers and some other games. My father beat me in chess most of the time, so after a while that got boring. Then my father remembered another game he and his older brother played a few times when they were young. He explained the rules to me, we started playing and… I won the very first game! Wow! I could beat my father! For an 8-year old boy, nothing could be better and I got hooked on the game. That is why I now play go and not chess…

When did you realise that go would become a major part of your life?

Some people decided to start a go club in my hometown when I was 12. I was the first person to sign up. But at the club we played just once a week. Then I discovered there were actually books about this game – so I had to learn real English – and I sort of became addicted from the age of 15, when I reached the level of 1 dan. I was lucky to have a good example in Ronald Schlemper, who had been to Japan a few times and became Dutch champion when he was around 17 years old. To have an example like that makes you realise that you yourself might be able to make an impact. Still, the real impact of go on my life was later, because it made me go all the way to Japan where I spent more than half of my life.

What was it like to study go as an insei at the Nihon Ki-in and how was life as a young Dutchman in a foreign culture?

Life as an insei was not very good. It sounds very romantic from afar. But in reality, I was very lonely in that big city. Nowadays, with Internet and good books, good teachers and good courses, you can learn Japanese or any other language in roughly 1/3rd or 1/5th of the time that it took in those days. It did not help that I had very little money and that I had to do all kinds of weird jobs to get money, which caused an enormous amount of stress. On top of that I was very introverted and, hmmm, socially awkward, I guess. Also, most insei had a teacher (sensei) and I did not. Despite those psychological problems, I went up from insei no. 43 to insei no. 14 in 10 months. But during that time I became terribly sick (asthma, which I had acquired in Tokyo) and thought I was going to die. Then, for the first time, after more than 2 years, I went back to the Netherlands on vacation. My stress cleared up along with the asthma.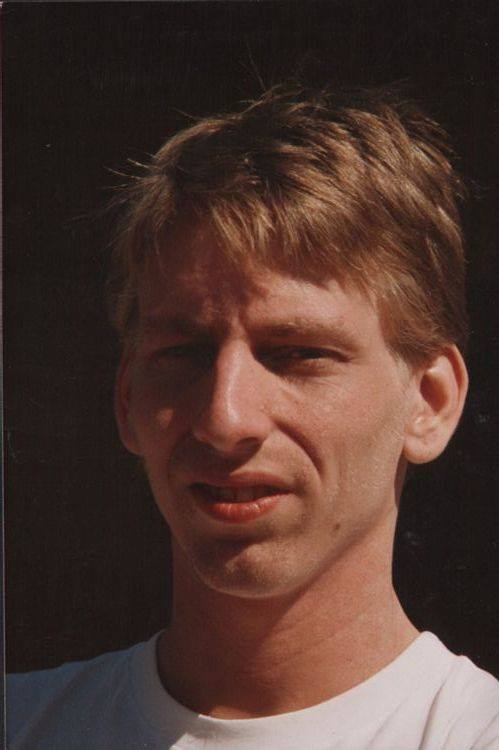 Who first changed the way you look at the game? And do you have a favourite go player?

I am not sure, but I think I was much influenced by the book The 1971 Honinbo Tournament that was about the games of Ishida Yoshio, who took the Honinbo title at the age of 22 (if I remember correctly). To me, this book made a great impression as it embodied the depths of professional go, their reading and their way of thinking.
During my long career as a go player (I have been playing it for almost half a century!), I have had many favourite players, such as Ishida, Takemiya, Cho Chikun, Kato Masao, Go Seigen, Honinbo Shusaku, Lee Changho, Lee Sedol, and now Ke Jie and Park Junghwan.

How would you describe your playing style?

I am not sure if I have a real style, but if I do I'd probably call it pragmatic. I like fighting and rely too much on my reading (up to 20 years ago, I think I was the no. 1 at reading in Europe). I am pretty bad at the fuseki so I often imitate top pros which is not easy if your memory is not very good – hahaha.

What is your best go memory?

The go groupies of course! No, just kidding. I have many good memories, because I have travelled to many countries (US, Tasmania, most of Europe and Asia) and met many people because of go. I think I love socialising with go players the most.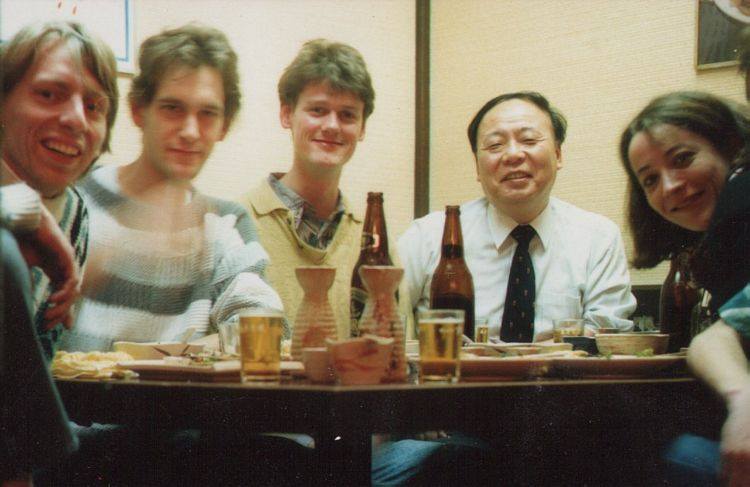 What is the best game of go you ever played? How did it go and what did it feel like?

The first best game I ever had, was when I was a mere 1 kyu. I found myself in a decisive fight where reading this situation well would win the game, but I could only read 3 or 4 moves ahead and then it would get all misty in my brain. I decided to "just do it" and concentrated as if my life depended on it. I was able to clear that mist in my head and read an extra few moves to clinch the game. This was a huge personal breakthrough.
In the second best game, when I was around 4 dan, I completely lost myself – I stopped existing and became the go board and the go stones and the entire Universe. I guess it was a kind of "enlightenment" that you can experience when you meditate. In this game, I suddenly understood some of the major concepts of fuseki.
The third best game was one where I beat a Korean 7p in a professional tournament (after first defeating a 6p). I had prepared a very complicated joseki from a book by Lee Changho and kept my advantage throughout the entire game. I completely overpowered him. How did it feel? WOW!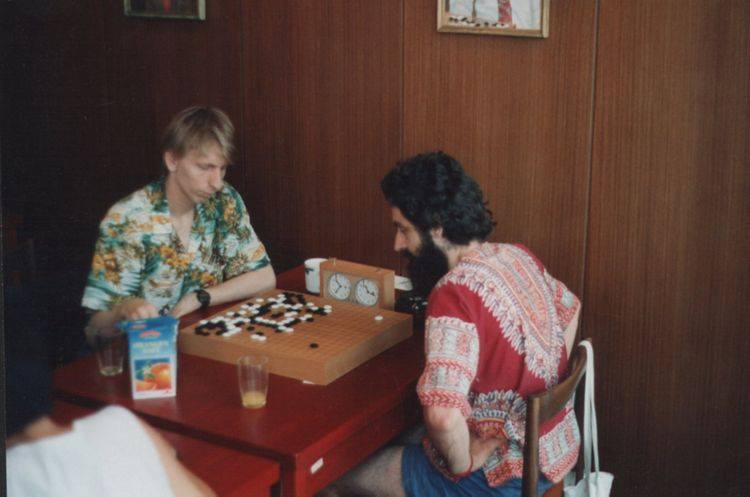 What is the strangest thing that ever happened to you in the go community?

The time that Gerald Westhoff, his brother Arend-Jan and I formed the No. 1 team of Apeldoorn, my hometown in the Netherlands, when we were 1 dan, 1 dan, and 2 dan respectively, and played in the European Team Championship. Somehow, we found ourselves in the Final against France with three 4 dans on their team. We had absolutely no chance, whatsoever. So we bought some bottles of wine, emptied one of the bottles and filled it with water. Then we told the French team that we did not think we stood a chance, so we might as well enjoy the match and that we had bought some wine for that purpose. Would they want some, too? Them being French and all that, they did what we expected and we helped them a little by keeping their cups well-filled with wine while we were drinking water instead, acting as if we were slightly drunk. It was quite a performance!
The result? We beat their asses 3-0!

What inspires you in go and drives you to keep playing the game at a high level?

I guess I just like the game itself. Maybe it is still that image of that little boy that could beat his own father. I think there is a psychological hook somewhere during your life that has a major impact and unconsciously decides your destiny. In my case, go was a very positive hook.

Thank you!


Game commentary, round 4 of the Dutch Open:

Other game files for download:
Round 1 - Rob van Zeijst 7d vs Rudi Verhagen 4d
Round 2 - Ruben Cornelissen 4d vs Rob van Zeijst 7d
Round 3 - Willem-Koen Pomstra 5d vs Rob van Zeijst 7d
Round 5 - Rob van Zeijst 7d vs Geert Groenen 5d
Round 6 - Michiel Eijkhout 5d vs Rob van Zeijst 7d
Round 7 final - Willem-Koen Pomstra 5d vs Rob van Zeijst 7d