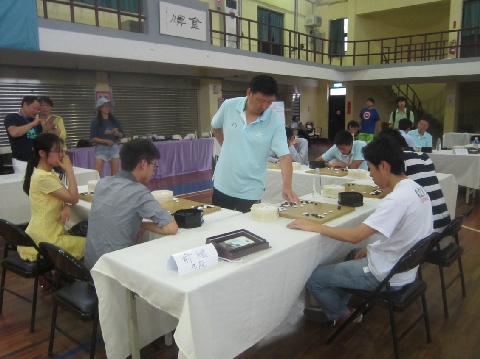 The 2nd edition of the World Collegiate Go Championship took place at National Tsinghua University in Taiwan, from 9 to 10 July 2015. It was organised by the Ing foundation. More than 100 students from all over the world took part, a majority of them from Asia.
The tournament was accompanied by a sightseeing and Go programme lasting from 7 to 13 July.
At the opening ceremony, several big names were present, such as Cho U 9p, Rin Kaiho 9p, Yu Bin 9p (national trainer of China), Wang Yuanjun 6p (#1 pro of Taiwan) etc. And of course there were several leaders of national Go associations from East Asia, amongst others Wang Runan 8p, whom some of you have met at Vienna tournament 2014.
On the sightseeing tours we saw some landmarks of Taiwan, e.g. the Taipeh 101, Sun Moon Lake and the National Palace Museum. For Go players the most interesting place was probably the
奕園

yì yuán
, a park dedicated to Go that is part of Tsinghua University.
The tournament was divided by rank in three groups; most of the participants (61) registered for the highest group, for 5 dan and above.
To be honest, I (Viktor Lin, European student champion 2014) went there with the idea of taking a world championship title. However I gave it up immediately when I learned that the previous year's champion was Wang Chen 7d. That's the guy who came second (to Tong Yulin 4p) at last year's EGC, currently ranked #4 amateur in China. I got my hopes up again when I realised that he already graduated and isn't a student anymore. Very quickly I abandoned it once more when I saw Sui Zexiang 7d there, who came third at last year's EGC and currently ranked #5 amateur in China.
In fact almost all the players from group A were stronger than me. I only won 2 games out of 6. I met players from Shanghai, Taiwan, Japan, Korea and the US. The two games I won were against the Japanese and US opponents, by 3 points each in the 3rd and 6th round respectively. I lost the rest of my games by resignation.
It was interesting to see that the winner of the nigiri (including me) almost always chose White, a phenomenon apparent also in friendly games outside of the tournament. The sole exception I witnessed was my Korean opponent, who happens to be a girl. She chose Black after winning the nigiri.
In the end the four best players from group A played additional semi-final and final rounds, and Sui Zexiang 7d became world student champion, who I would say was one of the favourites to win the tournament.
Next year the World Collegiate Go Championship will be held in Toronto, Canada. All students are welcome to participate.