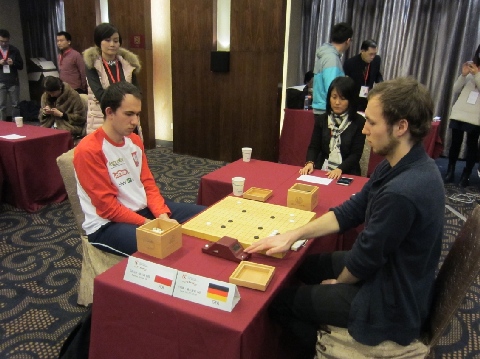 The second ZhuGang Cup World Team Go Championship takes place from 15th to 23rd December in BaiYun hotel, GuangZhou (detailed information can be found at article: http://eurogofed.org/index.html?id=22 ). Its high level of competition and prize have attracted a large number of professional and amateur players around the world. These teams are:
Seeded teams: China, Chinese Taipei, Korea and Japan
Wildcard Teams: China, Korea and Japan
Non-seeded teams: Russia, Germany, Poland, Ukraine, France, Israel, Hongkong, Macao, Singapore, Malaysia, Australia
It is worth mentioning that top professionals such as Ke Jie, Gu Li, Lee Sedol as well as legendary players such as Nie WeiPing, Cho Chikun and Koichi Kobayashi are participating the tournament amongst the seeded and wildcard teams.
After three rounds of qualifying games, nine out of eleven non-seeded teams have earned their entrance to the next stage - the competition with the seeded and wildcard teams. Eliminated teams being Macao and Malaysia.
The top four amongst all teams now will be qualified for the semi final after five rounds of competition.

Final results:
1. Korea 1
2. China 1
3. Korea wildcard
4. Japan 1
5. China wildcard
6. Australia
7. Taiwan
8. Hongkong
9. Japan wildcard
10. Germany (2 wins)
11. Ukraine (2 wins)
12. Russia (2 wins)
13. Poland (2 wins)
14. France (1 win)
15. Israel (1 win)
16. Singapur

The team of Korea 1 (Park Junghwan, Kim Jiseok, Lee Donghoon) beat the team of China 1 (Ke Jie, Shi Yue, Zhou Ruiyang) in the final special rengo game by 0,5 point.

Mateusz Surma, 1 dan EGF Professional from Poland beat in the 2nd round Zheng Hong from Australia, 9 dan professional player!