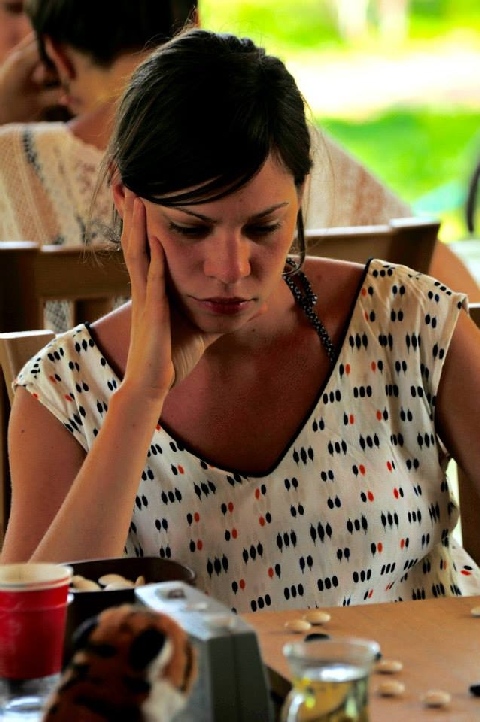 EWGC 2015, Turkey, Ciraly, Kiyi Pansion, 10th -13th July
European Women Go Championship was held in Turkey this year. Organisers chose a very nice place in the middle of nature, in a National Park around Ciraly. Kiyi Pansion, where the tournament took place, is a cosy place situated just on the sea coast. It is known by producing their own food on bio-bases. Therefore, living bungalows are scattered across a big garden where you can also meet plenty domestic animals living freely in a harmony with people.
Arrival was scheduled for Friday, 10th of July, but some participants had come a few days earlier and had taken part in a Turkish Go camp placed just about two kilometres from Kiyi. Nevertheless, everyone was on site in Kiyi on Friday evening where an opening ceremony and party took places.
The Championship was run as 5-rounds tournament with 3 rounds on Saturday and 2 rounds on Sunday. 21 players from the whole Europe fought for the title. Players were split into two MacMahon groups. The top group started with the MacMahon bar = 1 and was formed by 14 top players, including all official representatives. The rest of players started with a MacMahon bar = 0.
Playing site was a garden terrace covered just by a roof and surrounded by trees where a few hammocks were stretched for a relaxation, and also a garden shower was just next the terrace. Taking a rest in hammocks between rounds was very popular in hot weather and also shower for refreshment was used often, by some participants even during their games. There was also plenty of drinks available during the tournament and a catering was organised between rounds. Organisers did really a very good job to provide participants with all possible comfort.
Third round turned to be crucial to the Championship outcome. One of the biggest favourites, Natalia Kovaleva from Russia, lost to Manja Marz (Germany), while the other one, Rita Pocsai (Hungary), defeated Elvina Kalsberg (Russia). Rita and Manja entered fourth round as the only undefeated players, so naturally they played each other and Rita won the game. She confirmed her dominance in the last round as well and finished the whole tournament as the only undefeated player. A fight for the second place was won by Elvina who defeated Manja in the last round, and the third place went to Natalia at the end. Both, Elvina and Natalia, scored four wins as the only players in the tournament.
A curious discussion about the tournament started during dinner, when Natalia and Rita independently declared that they had never played each other so far and expressed a wish to meet finally over the goban. Actually, they played each other, but in their childhood, at Youth Championships, not since they have belonged to the strongest women players in Europe. Let's their wish fulfil soon!
At the end, many thanks go to organisers who made a very good job and prepared for all participants not only a nice tournament, but really a great time during their whole stay in Turkey. A social program included also a trip to Chimera mountain on Saturday night where a unique natural curiosity – burning flames coming out of the Earth - can be seen, farewell party on Sunday evening, and of course daily and nightly swimming. As a result, the whole atmosphere was very friendly and everybody felt like at home there, among closest friends. Thanks a lot!
Written by Jana Hricova
This tournament was also a qualification tournament for an event called IMSA Elite Invitational event that will replace the SportAccord World Mind Games. First three places in the tournament get a chance to represent Europe in China, Jiangsu province in January 2016. Top three men in EGC 2015 will join them.
Complete results
Please find a game between Rita Pocsai (European Champion 2015) and Elvina Carlsberg (European vice Champion 2015) commented by Pavol Lisy 1p