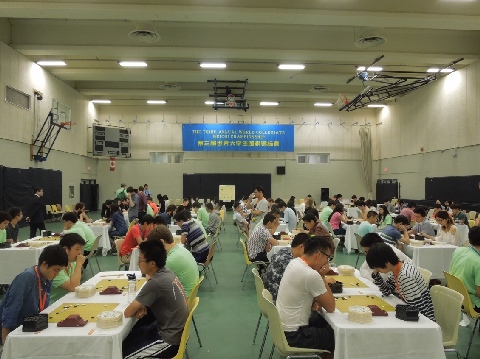 The third annual World Collegiate Weichi Championship, organised and sponsored by the Ing Foundation, was held in Toronto/Kanada from 8-12 July 2016. The playing venue and accommodation were located on the University of Missassauga campus.
The World Collegiate Championship is an open international tournament for university students from all over the world. 6 Swiss-tournament rounds were played in 4 groups. The top group played a separate semifinal knockout, which was won by Zhang Xiangyu. Previous winners were top Chinese amateurs Wang Chen and Sui Zexiang.
English Website
(Search terms for Chinese reports: "sina 围棋 世界大学生")
Results of European players:
Group A (5d and stronger, 44 players):
21st place Viktor Lin (University of Vienna) 3:3
Group B (1d-4d, 26 players):
7th Jitka Bartova (Charles University/Prague) 4:2
12th Viktor Ivanov (ITMO university/St. Petersburg) 3:3
13th Daniil Drukarev (ITMO university) 3:3
16th Yannis Henry (Université de Cergy-Pontoise/Paris) 3:3
18th Peter Neubauer (Technical University of Vienna) 2:4
25th Josef Scharler (University of Salzburg) 1:5
Group C (kyu, 17 players):
3rd Kirill Fedotov (ITMO university) 4:2
7th Jan Vrablik (Czech University of Life Sciences/Prague) 3:3
Group E (women only, 14 players):
no European participants
Besides the tournament, trips to the Niagara Falls and to Toronto City were organised for the participants.
The semifinals of the Chang Qi Cup was held simultaneously, so besides several important names such as Mr. Wang Runan (chairman of the Chinese Go Association) and Mr. Ing Minghao (president of Ing Foundation), the participants had the opportunity to meet world champion level players Tang Weixing 9p, Tuo Jiaxi 9p, Lian Xiao 7p and Wu Guangya 6p.
The venue for next year's tournament moved from Luxemburg to Bangkok/Thailand. All amateur university students are welcome to participate.