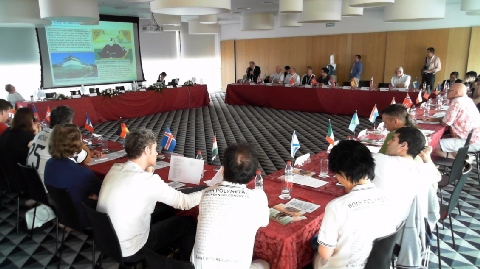 Like last year 22 countries sent a representative to the assembly. With different numbers of votes for each country, the majority was reached at 26 votes. Some countries have only 1 vote because of a reduced membership fee, most countries have 2 votes and the bigger countries like Russia, Germany, France and Holland have 4.
Georgia got elected as 38th member, but actually just for a few minutes as Azerbaijan got excluded, so it's still 37 countries. There was no need to re-elect the board because a new system from the constitution got adopted which will make the full board get re-elected only every 3 years; next time will be in 2018.
Let me list some of the important decisions and presentations of the meeting:
Harry van der Krogt is the new treasurer; he will replace Hans Kostka who served in this position for 15 years.
It's no longer possible to get a rating reset above 2 dan, ie. a 2 dan can jump to 4 dan, but a 3 dan can not jump to 5 dan (well technically he still can but it won't reset his rating).
A pro committee will be established. Members will be: Catalin Taranu, Fan Hui, Ali Jabarin, Pavol Lisy, Ilya Shikshin, Artem Kachanovskyi and Mateusz Surma
There was a longer discussion on how to make the prizes at the European Championship more stable. Organizers of future congresses were present and they took notice of the importance of this matter. All present representatives agreed that the situation has to be improved. The goal is to have a first prize for the European Champion at about €5000.
Maxim Volkov, president of the Russian Federation, stated that the congress was developing well. He showed the numbers of participants and was happy how the federation could use the target event "congress" as a tool to increase the awareness of go even before the congress happened. Thanks were given to Maxim and his team for all the effort, especially mentioning Natalia Kovaleva and Manja Marz.
For next year's congress in Turkey, there was a longer discussion about the difficult situation the country is going through lately. The congress will be held in the beautiful Cappadocia. You can take a look at the promo video here and register here.
Italy, who will hold the congress in 2018, has also produced a promo video and registration is open already now.
The congress in 2019 will be in Brussels, Belgium
All the details can be found in
the minutes
.