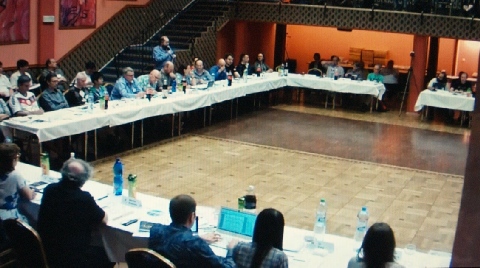 This year's AGM was rather a calm one in comparison to the one last year. First the countries reps had to line up to get their voting power written on their voting ballot paper, bigger countries had 4 votes and the smaller ones only 1. In total there were 22 countries present, special guests like the board of the EGCC (European Go Cultural Center) and the representatives from the Nihon Kiin, China Qiyuan, IGF, AGF, CEGO and Mr. Ge Yuhong from the
Ge Yuhong Academy
.
The board of the European Go Federation got reelected for the next 3 years which started a discussion to have only 1/3 reelected each year but as the constitution doesn't mention anything will have to wait see step down some executives before their 3 years term some time in the future to get this mixed up a bit ...
Let me list some of the important decisions and presentations of the meeting:
Iceland got accepted as new member. The EGF counts now 37 member countries
A draft of a booklet elaborated by the Intern of the EGCC (Fleur Devouassoux) for finding sponsors was presented.
Vice-President Li Ting made a presentation about the European Pro System.
The President of the Russian Go Federation Maxim Volkov presented the congress 2016: Main Video, Hotel Video, Webpage.
The location of the Congress in 2017 in Turkey is not decided yet, Kerem Karaerkek is still trying to find a good place on the southern sea side but also presented Capadochia as an option.
The congress 2018 is still looking for candidates. Italy and Switzerland voiced some interest but nothing has been decided. An option will be also Brno, Czechia. The decision will be made before the end of the year.
The rating for internet games has some official rules and recommendations now and it will be soon implemented in the EGD. In short only the national organizations can organize online tournaments and it counts 1/4 of a similar real life event.
Fabien Lips got appointed to the Tournament Rules & Commission, Leo Dal Zovo and Kerem Karaerkek head the Appeals Commission.
Martin Finke stepped down as european IGF director and got replaced by Li Ting. Lee Hajin (IGF Secretary) thanked Martin Finke for all his work done during the 5 years as IGF director.
Lots of numbers were presented for the budget and balances and with Daniel Tosetto the treasurer got a reinforcement to do his work.
Hajin Lee announced the places for the future WAGC: China 2016, Japan 2017, Korea 2018 and Macao with the WMSG in October 2016
All the details can be found in the
minutes
.