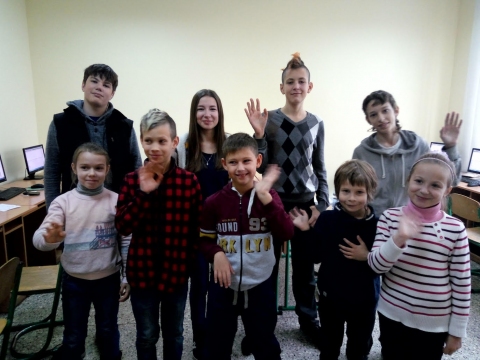 On Saturday, October 22, the German and Ukrainian Go Youth played an online friendship tournament.
The idea to this tournament arose after a visit of Nataliia Rusanovska, mother of two go playing children from Kiev to a German go tournament where a contact to the German Go Federation was established. Instead of a classical team match, we decided to try out a new idea: playing a McMahon tournament with relatively short, children-friendly thinking time (20 minutes + 3x20 seconds). This reduced the organisation a lot, since we did not have to worry about missing kids: the pairing for the first round was simply made on the spot.
The Ukrainian kids played at their meeting place in Kiev (photo), while the German kids played at their respective homes.
All in all, 18 children took part at this tournament that was limited to kyu players. After three rounds of McMahon, Emanuel Schaaf (1k, Trier, Germany) won the tournament. Second came Yevhen Rusanovskyi (5k, Kiev, Ukraine), third Emre Cinar (1k, Ratingen, Germany). Besides Emanuel, two more players had three victories: his sister, Emilia Schaaf (15k) and Alexander Korf (7k, Mainz, Germany).
We hope that this concept might be used for other youth tournaments across Europe, as it is fairly easy to implement, doesn't need long travels and leads to evenly matched, children-friendly games.
The kids are now looking forward to meet their opponents in real life at the next European Youth Go Championship taking place next February in Grenoble, France!
Final results:
Place	Name			Club	Level	Score	1	2	3	Points SOS
1	Schaaf, Emanuel		de-Trie	1 Kyu	13	6+	4+	5+	3	33
2	Rusanovskyi, Yevhen	ua-Kyiv	5 Kyu	12	3-	6+	4+	2	33½
3	Cinar, Emre		de-RAT	1 Kyu	11½	2+	5-	-	1	33
4	Rusanovskyi, Dmytro	ua-Kyiv	2 Kyu	11	5+	1-	2-	1	36
5	Petrashevska, Nika	ua-Kyiv	3 Kyu	11	4-	3+	1-	1	35½
6	Thoerner, Vanessa	de-Güte	5 Kyu	11	1-	2-	8+	1	33
7	Korf, Alexander		de-Main	7 Kyu	11	8+	10+	9+	3	23½
8	Marz, Ferdinand		de-Jena	7 Kyu	8	7-	9-	6-	0	30
9	Ovsiienko, Vsevolod	ua-Kyiv	9 Kyu	8	10+	8+	7-	2	26½
10	Quathamer, Janntje	de-Kass	8 Kyu	7½	9-	7-	-	0	26
11	Minaiev, Mykyta		ua-Kyiv	12 Kyu	5	13+	12-	14+	2	12
(12)	Rieger, Angelika	de-Trie	12 Kyu	5	14+	11+	13-	2	12
13	Gresko, Danylo		ua-Kyiv	13 Kyu	4	11-	14+	12+	2	13
14	Lysenko, Yehor		ua-Kyiv	12 Kyu	3	12-	13-	11-	0	14
15	Schaaf, Emilia-Yuan	de-Trie	15 Kyu	3	17+	16+	18+	3	3
16	Thum, Alessio		de-RAT	17 Kyu	2	18+	15-	17+	2	4
17	Melnyk, Anna		ua-Kyiv	18 Kyu	1	15-	18+	16-	1	5
18	Siver, Kateryna		ua-Kyiv	18 Kyu	0	16-	17-	15-	0	6