Each year, the Dutch Championships are held in January to determine who may call himself the strongest player of the country. This is decided over 8 rounds. Whoever scores 4 wins out of 8 games or more, automatically qualifies for the national championships of the following year. Those that score less than 4 wins however, will have to qualify for next year through a special tournament. This is where the Inter Districts Tournament - shortened INDIS - comes in.
The INDIS uses a very similar format to the Dutch Championships and consists of 8 rounds over two weekends. Players that are at least 4-dan or stronger, that have been demoted from the Dutch Championships the previous year, or that have qualified as the strongest of their "district" are eligible to fight in the INDIS for a spot amongst the 16 best Dutch players.
This year, the INDIS took place at the weekends of 8-9 and 22-23 October at the European Go Cultural Centre in Amstelveen. Since seven players had been demoted from the Dutch Championships the previous year, seven spots were open. This meant that the top seven of the INDIS would qualify for the Dutch Championships of 2017.
The official referee for the tournament was René Aaij 4d.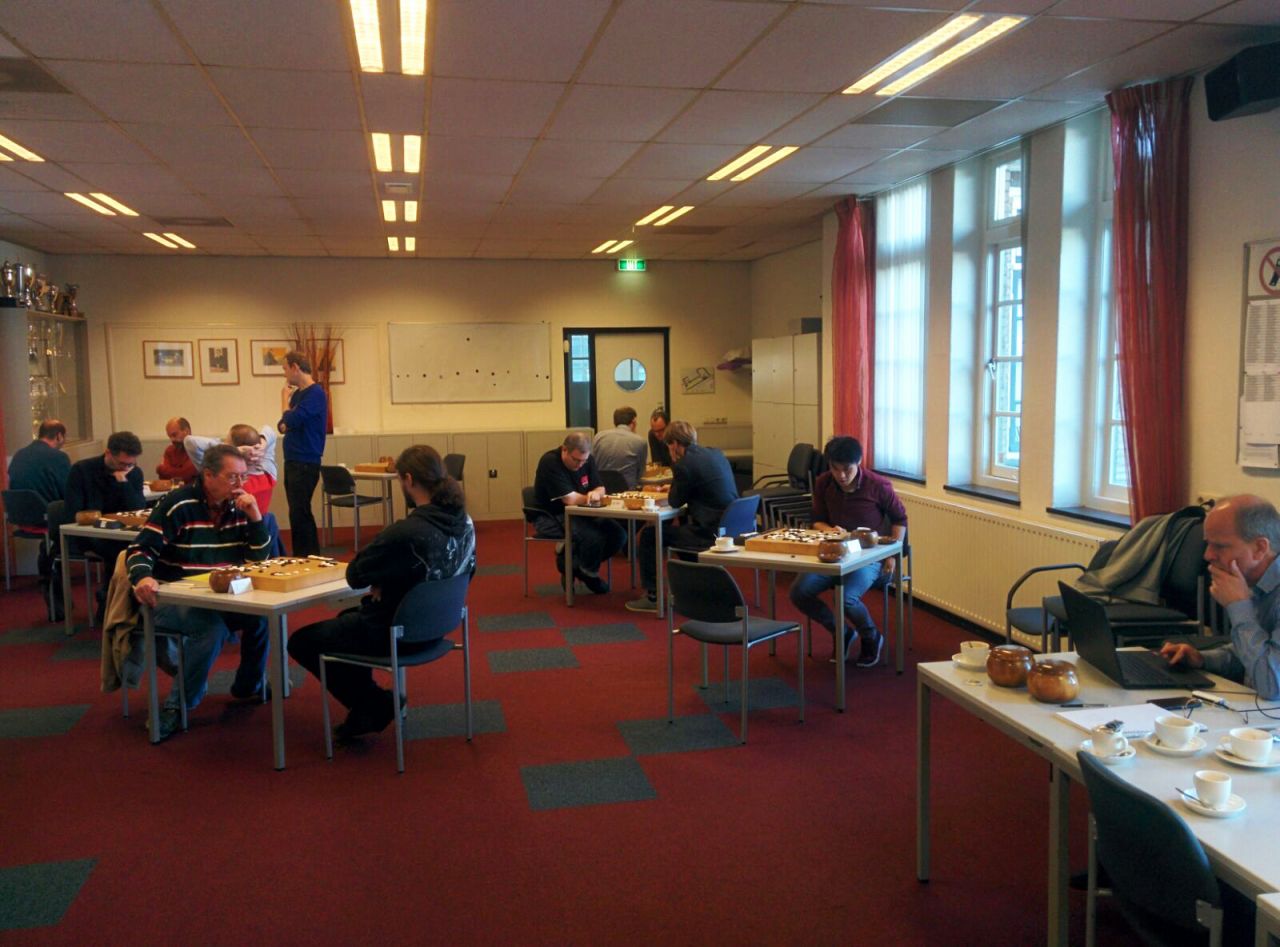 Before the tournament, the strongest players on paper were:

Michiel Eijkhout 5d - rating 2450: A calm and collected, but effective style, waiting to strike
Herman Hiddema 4d - rating 2373: Fighting style, thrives on complication and tesuji
Kim Ouweleen 4d - rating 2369: Plays go like he makes art: dreamy, occassionally absurd
Andreas Drost 4d - rating 2322: Expert in good shape, sometimes switches to cosmic fuseki
Siu Hong Chung 3d - rating 2311: Basic and patient, no nonsense
Erik Henselmans 3d - rating 2294: Often ends up in huge dragon-fights with crucial semeai

Therefore, it was not a surprise that these six players managed to end up in the top 7.
One player however did remarkably well: Jord de Jong, an up and coming 1k from Groningen, managed to take seventh place, ending above several dan players in the field, and qualified for his first Dutch Championships.

Two players ended at the top of the table with seven wins out of eight games: Herman Hiddema 4d, also from Groningen, and Michiel Eijkhout 5d. With slightly better SOS-points, Hiddema was crowned the champion. Andreas Drost 4d from Leiden showed good shape and ended up on third place with six wins. He sprang a surprise by beating Eijkhout in the sixth round, who had been unstoppable until then and had been the only player to defeat Hiddema. Drost, who had beaten Hong Chung, Ouweleen and Eijkhout, and had only lost to Hiddema, unfortunately lost his last game to Merijn de Jong 3d.

To see the final standings, click here.
This means that these will be the 16 players that will compete in the Dutch Championships 2017:

Merlijn Kuin 6d
Geert Groenen 6d
Frank Janssen 6d
Alexander Eerbeek 5d
Michiel Eijkhout 5d
Robert Rehm 5d
René Aaij 5d
Rudi Verhagen 4d
Herman Hiddema 4d
Ruben Cornelissen 4d
Kim Ouweleen 4d
Andreas Drost 4d
Siu Hong Chung 3d
Erik Henselmans 3d
Gerard Nederveen 1d
Jord de Jong 1k

Ivo Schuurink 2d took 8th place in the INDIS and is the first reserve player, in case someone opts out.

Murugandi reviews game 5 on Twitch:


Kim Ouweleen and Justyna Klęczar discussed one of Kim's games live on Twitch.
Here you can watch their review of game five against Michiel Eijkhout 5d: Murugandi's Twitch.