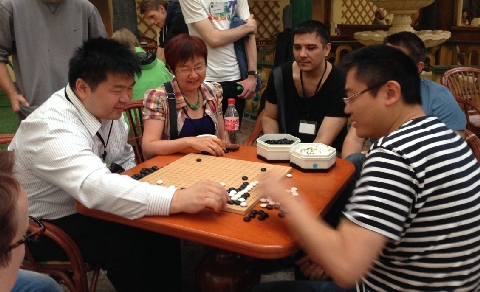 The 59th WeiqiTV European Go Congress has started on 25th, July, taking place at the Babylon center in Liberec, Czech Republic. This yearly Go "festival" along with the charming town has attracted more than nine hundreds players and guests this year to join the event. The tournament site itself offers a lot of activities, including Aguapark, bowling and games center. Excitement can be seen everywhere in playing room on the Go board and outside at leisure time.
Unlike the previous years, the European champion was played within top 24 players and already decided on the first week. Without any doubt, many interesting side events took place besides the main tournament.
Main Tournament
By the third time in a row, the European champion was won by Fan Hui 2p, Having defeated many strong players, Fan Hui faced Ali Jabarin in the final. In the final game, Fan Hui had suffered a difficult time in the opening, however, he seized a slow move of Ali shortly after entering the middle game and regained some control. Finally, having punished an overplay of three-space extension, Fan Hui obtained the dominance of the game in a fight and never gave it back. The game was won by resign. (commentary source, Zhao BaoLong 3p)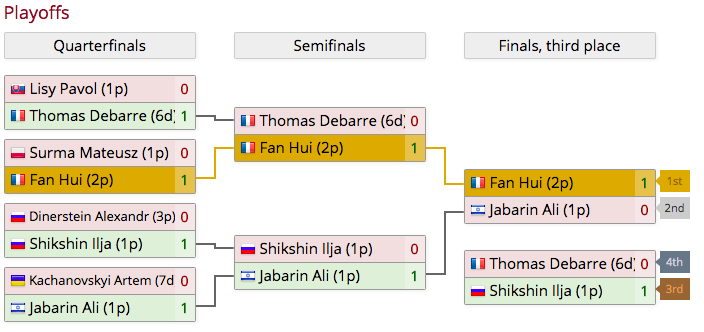 (European Championship - playoff finals. Source: egc2015.cz)
Pandanet Go European Team Championship 2014/15
The final games of Pandanet European Team Championship took before the start of the congress. This year, it was won by France, Ukraine came as the 2nd place, followed by Czechia 3rd place and Romania 4th.
Weekend Tournament
Many strong European and Asian players joined the weekend tournament. After two days and 5 round, Kim Young-Sam 7D from Korean won all his games and the tournament.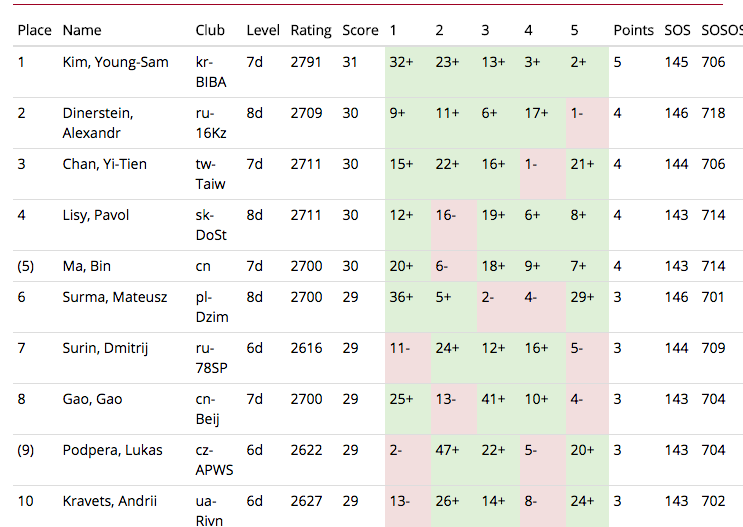 (Weekend tournament result, source: egc2015.cz)