2nd Transatlantic Professional Go League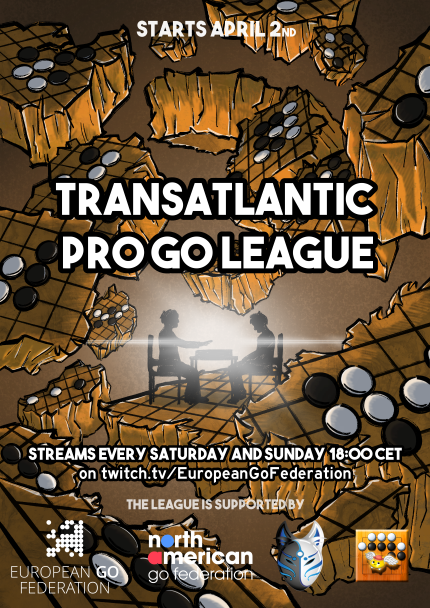 Final standings, top four:
| | |
| --- | --- |
| Winner | Ryan Li 3p |
| Runner-up | Kevin Yang 1p |
| 3rd place | Ilya Shikshin 4p |
| 4th place | Artem Kachanovskyi 2p |
Starting from 2 April 2022 the
EGF professionals
, Ryan Li 3p, and two NAGF amateurs play in an online league at
https://online-go.com
every Saturday and Sunday at 18:00 CET/CEST.


One match is played per day: a single pair of participants will play a best-of-three match, switching colours. Another participant will comment on the games live on the
EGF Twitch channel
.
You can support the League financially at the
League Patreon page
.
To follow all the announcements and news, sign up to our
League Facebook page
.


Organizers:
European Professional Committee.
Participants:
Tournament system:
after the preliminaries for amateurs, the players will be divided into two groups (A and B). Each group will play a round robin, followed by a play-off:
Quarterfinal: A2 vs B3, B2 vs A3

Semifinal: A1 vs B2 or A3, B1 vs A2 or B3

Final
Time control:
5 minutes basic time, three periods of 30 seconds per move byo-yomi.
Tie-breaker:
SODOS, win-loss difference, mutual game, additional games.
Prize money:
1st place:
€
1.600
, 2nd place: €900, 3rd place: €600, 4th place: €400.

Sponsors and partners:


Group A
Group B

Quarter-finals:
Ilya Shikshin 4p vs. Brady Zhang 7d
Ilya won 2-0 |

W+R

| B+R |

Ali Jabarin 2p vs. Artem Kachanovskyi 2p
Artem won 2-1 |

W-9.5

| B+R | B+R |

Semi-finals:
Ryan Li 3p vs. Ilya Shikshin 4p
Ryan won 2-0 |

W+R

| B+R |

Kevin Yang 1p vs. Artem Kachanovskyi 2p
Kevin won 2-0 |

W+R

| B+R |

Match for 3rd place:
Ilya Shikshin 4p vs. Artem Kachanovskyi 2p
Ilya won 2-0 |

W+R

| B+R |

Final:
Ryan Li 3p vs. Kevin Yang 1p
Ryan won 3-0 |

W+T

| B+R |

W+R

|

Past seasons: