European Pair Go Championships 2016
9th - 10th April 2016 at the Hotel Santon in Brno, Czechia
18 pairs from 9 countries took part in this event.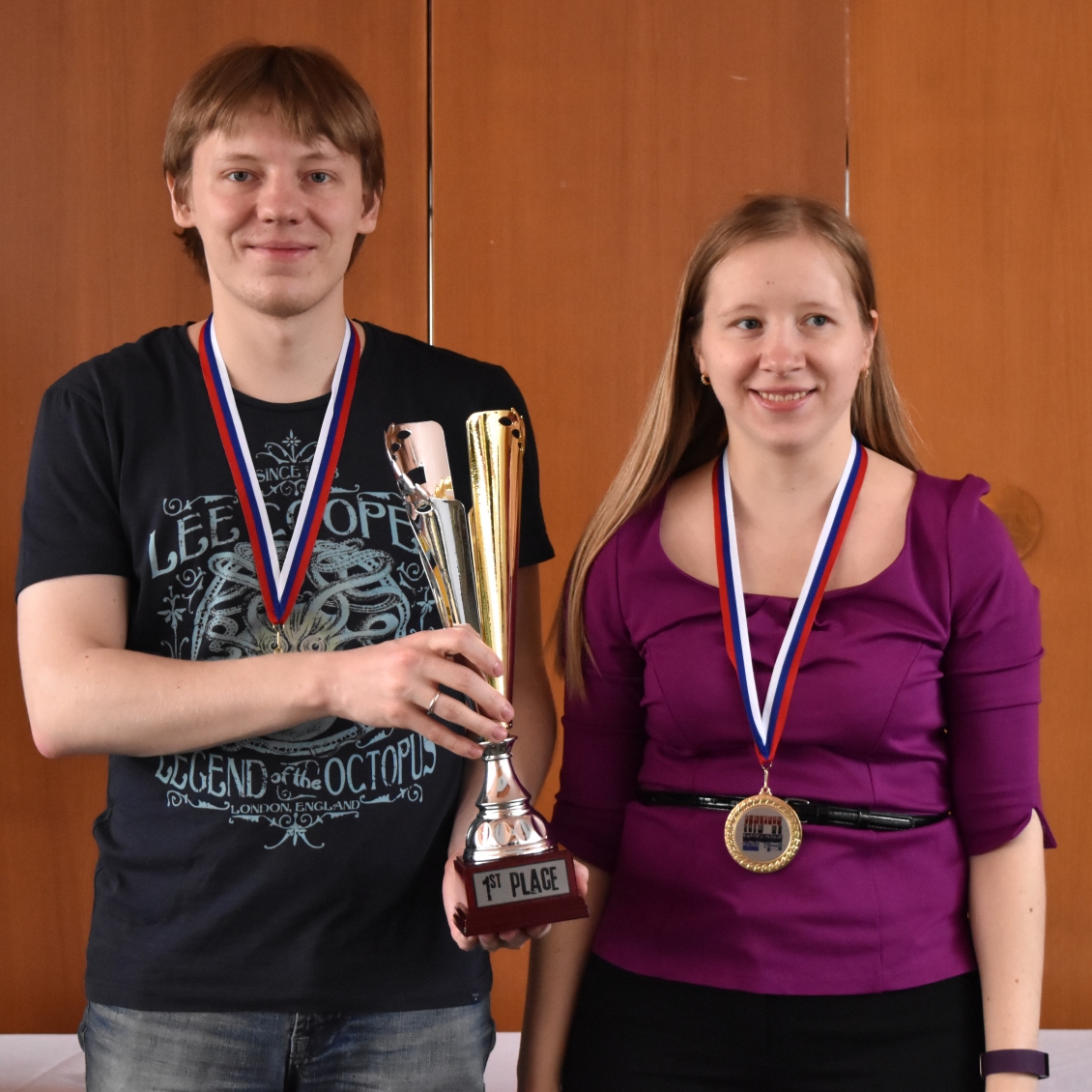 Winners were Russian sister and brother Svetlana Shikshina and Ilya Shikshin.
Second were Hungarian players Rita Pocsai and Pal Balogh.
Third place went to Manja Marz playing this time with Matias Pankoke, from Germany.
Pavol Lisy was on hand as resident pro. Games were broadcast live on Pandanet.
The top amateur pair will represent Europe at the International Amateur Pair Go Championship 2016.

Pl Names                                  Cy Gr Win  1    2    3    4    5    6   MMed SOSOS
 1 Shikshina Svetlana / Shikshin Ilya     RU 7d  6  15+  18+   9+   2+   7+   3+   18   112 
 2 Pocsai Rita / Balogh Pal               HU 5d  5  16+   4+  11+   1-  12+   5+   20   109 
 3 Marz Manja / Pankoke Matias            DE 4d  4  18+   6-  12+   9+   4+   1-   20   113
 4 Zmekova Vera / Kruml Ondrej            CZ 1k  4   5+   2-  10+  13+   3-   8+   19   115
 5 Scheuplein Vivian / Obenaus Johannes   DE 3d  4   4-  15+  13+   6+   8+   2-   18   114
 6 Tomsu Adriana / Podpera Lukas          CZ 3d  4  12+   3+   8-   5-  11+  14+   17   111
 7 Zaloudkova Klara / Hora Jan            CZ 4d  4  17+   9-  16+   8+   1-  10+   16   107
 8 Cao Ngoc-Trang / Fenech Antoine        FR 4d  3  14+  10+   6+   7-   5-   4-   21   110
 9 Kadlecova Alzbeta / Jurek Martin       CZ 2d  3  11+   7+   1-   3-  10-  17+   21   103
10 Bartova Jitka / Kozelek Tomas          CZ 3d  3  13+   8-   4-  17+   9+   7-   17   110
11 Bergstrom Kerstin / Akerblom Charlie   SE 2d  3   9-  16+   2-  14+   6-  13+   17   109
12 Malatesta Sofia / Sgaravatti Niccolo   IT 2k  3   6-  14+   3-  15+   2-  18+   17   109
13 Dankova Lenka / Danek Vladimir         CZ 1k  2  10-  17+   5-   4-  16+  11-   13   105
14 Salvajdova Zuzana / Kachyna Ondrej     CZ 4k  2   8-  12-  17+  11-  15+   6-   12   104
15 Waczulikova Kristina / Waczulik Juraj  SK 6k  2   1-   5-  18+  12-  14-  16+   10   104
16 Medak Mirta / Medak Damir              HR 5k  1   2-  11-   7-  18+  13-  15-   11   104
17 Hrbkova Irena / Kostka Ivan            CZ 5k  1   7-  13-  14-  10-  18+   9-   10   104
18 Kralikova Zuzana / Jadron Milan        SK 3k  0   3-   1-  15-  16-  17-  12-   11   101