A few weeks before both tournaments started, for me the preparations had already begun. Laptops and a projector had to be organized and prepared for this event, so that all the games could be broadcast via KGS and that players from the China Cup Berlin could watch the games in the Grand Slam without disturbing the players.
Benjamin Teuber and his team organized cameras and much more so that a broadcast via Twitch and YouTube was possible from both Berlin and Hamburg, where Yoon Young Sun was able to comment the games played on Board 1 of the tournament. All this of course serves as a kind of general rehearsal for the upcoming European Go Congress in Oberhof.
The Preliminary round was one with a lot of action and 2 more or less unwanted clashes.
The first one was a French clash between Tanguy Le Calvé and Thomas Debarre, the other was a clash between two old timers Alexandr Dinerchteyn 3p and Catalin Taranu 5p.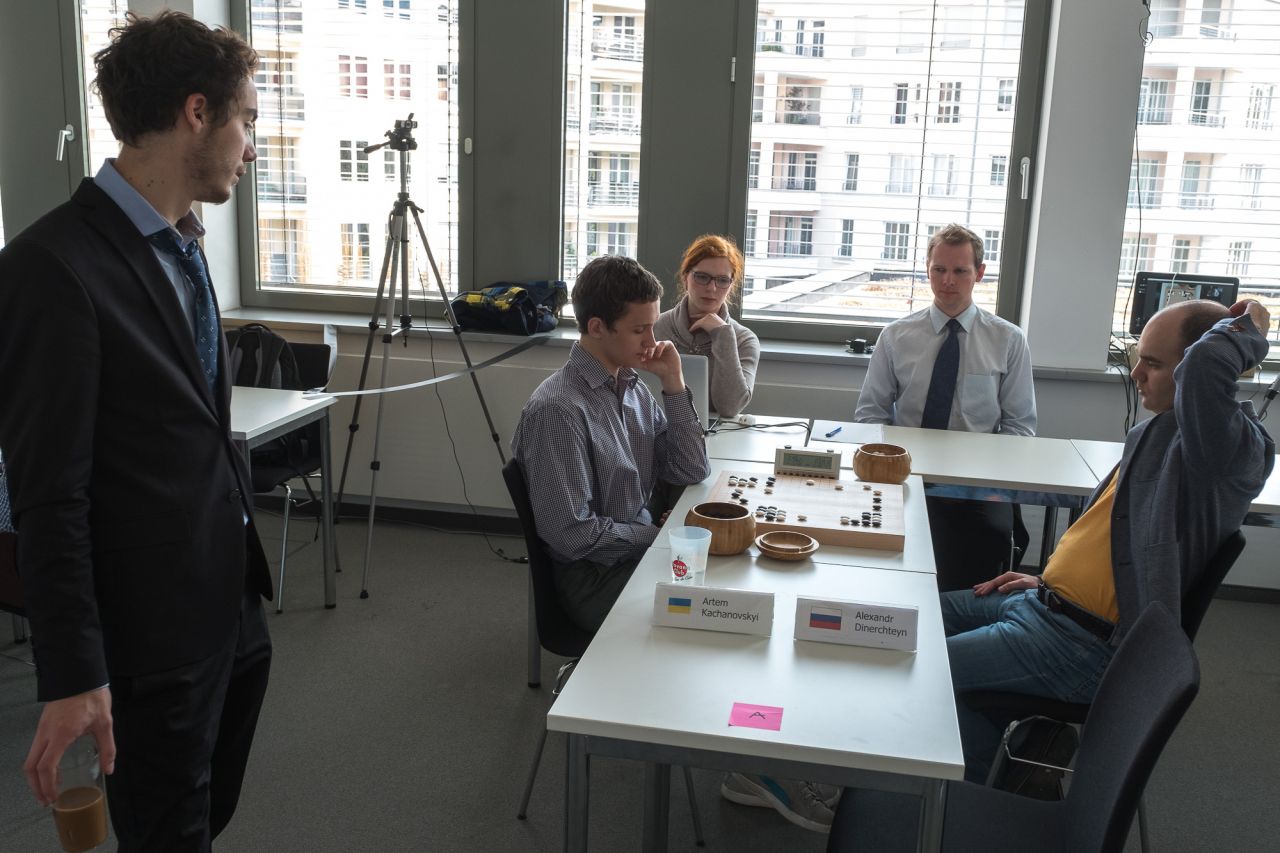 For me as full time scribe on Board 2, where the two old timers started their clash, it was an exciting event. In the end Alexandr won his game against Catalin and he was lucky to be playing on board 2, winning all his games with me as his scribe until the final, when he was promoted to Board 1 without me.
I took several pictures of the event, which I posted each day on several different groups on Facebook. It was nice to see many positive and constructive reactions to my pictures and comments. Many more pictures were made and published by others, for instance Harry van der Krogt. There is still lots of improvements which can be made to get even better at organizing and publishing activities... Not only go should become more professional, also the background organization should become more professional...
During my breaks as a scribe I was able to meet a lot of old and new (go)friends, the first one was Patrick Müsker from the Chinese Cultural Center Berlin, who helped us with more than one thing and was a great contribution to the success of this year's event.
Here follows his impression of the event:
From the 28th of April until the 1st of May 2017, the Chinese Cultural Center Berlin organised in cooperation with the EGF, the 3rd European Go Grand Slam Tournament and the 8th China Cup Berlin.
While the preliminary games between the best 12 European go players for the 3rd European Go Grand Slam Tournament already started on Friday, Saturday morning was the official opening for both tournaments.
After a long and exciting day of playing the Chinese Cultural Center Berlin invited all the players for a get together at a Chinese buffet.

For this event the organizers were happy to welcome a delegation from China including go experts Mr. Zhang Wendong, Mr. Liu Xiaoguang, and Miss Yang Shuang, as well as miss Hei Jiajia (who is better known in europe as Joanne Missingham) from Taiwan. They were available for giving advice and lessons to all the players, and on the last day all four professionals played a simultaneous game against several players from the tournament. This was directly followed by a commentary on the final of the 3rd European Go Grand Slam Tournament.

The whole weekend 2 Press teams from China were also guests to both events.
Both Tournaments ended with a combined presentation Ceremony where the participants were honoured for their achievements with prize money of up to 10,000 EUR.
For the Chinese Cultural Center Berlin this Tournament weekend was a complete success and showed that the Chinese game of go has, not only in Germany, but in the whole of Europe, is growing in popularity. Therefore the Chinese Cultural Center Berlin will also organize and host the future European Go Grand Slam and China Cup Berlin.
Patrick Müsker
Another famous European go player and former European Champion I met after a very long time was Rob van Zeijst. After having some fun in a small bar with some beers, he promised me that he would also write a small impression of the event, but I had to pay a big price for his work. Next year my challenge is to be 20 kilos lighter!
Here follows his impressions:
Wanted: A child....

according to the Chinese 9p ( Mr. Liu Xiaoguang) who commented the Final, it is clear that the level of go in Europe each year becomes a little higher. As we know all improvements in go happen in small steps. But some small steps can have big implications, such as with the first step on the moon being immortalized with the famous words "a small step for man, a huge leap for mankind". For years go in Europe was at the cusp of professional level, but with the help of the Chinese sponsor programme in 2014 it was converted into a step-leap action, with which the professionals in European have gotten a raison d´être (existence). In the next 10-20 years Europe will become stronger step by step, until European professionals will be able to compete in the top 8 of international tournaments. I think that such a European competitor will be born in 2017! The only thing we have to do is find this child. My question to you is: "Do you want to help find this child?"
Rob van Zeijst
For me lots of impression also came from the team tournament, which in its own way was less static and quiet than the Grand Slam Tournament. There were more sounds, more emotions and lots more instances of nice clashes and cooperation among different kinds of nationalities, as we can read from my friend from France Jean-Yves who was more than welcome to say something about his second visit to Berlin for this event.
For the second time, I participated in the China Cup Berlin which is a team tournament. This year, we set up a team with 2 French and 2 Germans, that was named: "French German friendship team". The event was well organised even though the teams were built up at the last minute. The Berlin Chinese Cultural Center offered a very nice typical Chinese buffet in the evening of the first day. Our team was really very kind with all the other 5 teams we played. I would conclude by saying like Pierre De Coubertin, who re-introduced the Olympic games in the early 20th century, that the most important thing is to participate! Looking forward to participating in the 4th edition next year. A great thanks to the organising team.
Jean-Yves Papazoglou EGF Vice president.
With this I conclude part one and will be back with some more impressions from the participants of the Grand Slam Tournament.
Results
Photos
by Harry van der Krogt