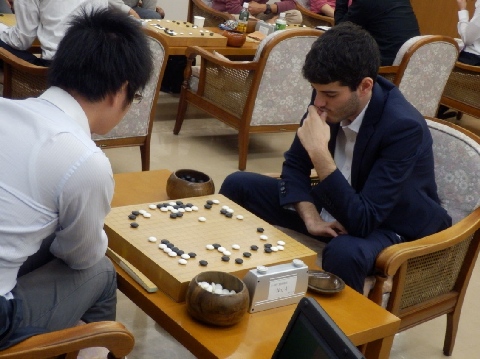 The Sankei Tournament, sponsored by Sankei newspaper, is held annually by Kansai Ki-in in Osaka. Pros and amateurs compete in separate preliminaries to qualify to the main tournament. Japanese website

At last year's Sankei Tournament, the two EGF pros who participated caused an uproar in the preliminaries:

Pavol Lisy 1p made Yuki Satoshi 9p, a title-holder level top player, sweat during the first round, but finally didn't manage to win. Meanwhile, Ali Jabarin 1p defeated Saito Tadashi 8p flawlessly, but gave away a good game against Nakano Yasuhiro 9p in the second round, although he made the organising team panic a bit as they were not prepared for a foreign player in the main tournament.
This was a memorable event not only for the EGF pros, but also for Japanese Go fans and media. Therefore the Sankei Tournament invited foreign players again this year:
Europe is represented by Ali Jabarin 1p and Mateusz Surma 1p. Additionally, two AGA pros were also invited: Andy Liu 1p and Gansheng Shi 1p.
Ali and Mateusz were paired against tough opponents in the first round: Yo Seiki 7p (champion of several Japanese tournaments) and Kurahashi Masayuki 9p. Both of them lost and were eliminated. Gansheng also lost to Yasuhiro Mine 3p. Andy stood out by defeating Kazuhiro Imai 6p (whom some of you have met at EGC 2015), and went on to defeat Takashima Yougo 1p by 0.5. If he can win against Ha Yon-iru 6p, he will qualify for the main tournament.

Kifus
Ali Jabarin b vs Yu Seiki w W+Res
Mateusz Surma b vs Kurahashi Masayuki w W+5.5
Gansheng Shi b vs Mine Yasuhiro w W+Res
Imai Kazuhiro b vs Andy Liu w W+Res
Takashima Yougo b vs Andy Liu w W+0.5

Although the Sankei Tournament is finished for most of them, the 4 western pros will play an exchange match with 1p players from Kansai Ki-in on 30 Oct. These matches will be broadcasted on Pandanet.
30 Oct, 10:00 Japanese time
Mateusz vs. Nishiyama Shizuka 1p
Nishiyama Shizuka b vs Mateusz Surma w B+Res
Andy vs. Shintani Yousuke 1p
Andy Liu b vs Shintani Yousuke w B+Res


14:00 Japanese time
Ali vs. Hon Akiyoshi 1p (winner of EGC 2007, formerly Hong Seok-ui)
Hon Akiyoshi b vs Ali Jabarin w B+Res
Gansheng vs. Inaba Karin 1p
Inaba Karin b vs Gansheng Shi w B+7.5

(In last year's exchange match, Pavol defeated Hashimoto Kan 1p, and Ali lost to Takashima Yougo 1p.)

Update: Andy won against Ha Yon-iru!
Andy Liu b vs Ha Yoniru w B+2.5
Thus Andy qualified to the main tournament that will take place next spring.