Saijo Masataka, nine dan pro, one of the most inspiring and sympathetic persons I've ever met, passed away on August 6th. Anyone who has ever attended a European go congress and has met Saijo sensei will not soon forget him. Always willing to analyse games, from beginners to top players, from early in the morning until late at night, a teacher who never said no. Always with a lot of patience and never a cross word, and always with a radiant smile, but above all with a sharp insight into the game. His commentary was always constructive and clear, and you always had the feeling that you immediately understood more of the game. He became the favourite teacher amongst the go players in all the events he has visited. He was dubbed the 'Buddha of go' among fans, and as a result Saijo Sensei was appointed as Honorary Go Teacher of the EGF in 1997.
Saijo sensei was born in 1941 in Chiba prefecture in Japan, he became pro shodan in 1964 at the Nagoya branch of the Nihon Kiin. He was a rising star in his early pro years, on the same level as title holder Hane Yasumasa. Because he had a medical condition (intense headache) he was advised to quit playing go, but he chose instead to play faster in the pro league games. Because he was playing fast his results diminished so he switched to a teaching career, luckily for go players all over the world. Nevertheless he still won occasionally against very strong pros.
At the age of 45 he started his own go teaching group called Hakukikai and he had quite a lot of students. According to the Nihon Kiin obituary some of his best achievements were qualification for the 34th NHK Cup in 1986, and the 22nd Gosei tournament in 1996. His total tally was 499 wins and 465 loss in professional tournaments. He officially retired from professional go in 2004. He first visited Europe in 1984 at the European go Congress of Porrentruy, Switzerland, to come back in 1993 for the congress in Prague and many congresses after and not only in Europe.
Saijo was the official sensei of Catalin Taranu . During the congress in Prague 1993 he met Catalin Taranu for the first time. One year later during the congress in Maastricht they met again and during a two stone handicap game with Catalin, the sensei was probably impressed by his talent. when Catalin asked him if he could help him to become insei in Japan he said yes. Catalin explains: "His word mattered more than anything else, it was a question of honour. So, when he invited me to Japan he made a commitment for life to take care of me, even if I realized that much later." Catalin did not disappoint him and became the first European go player to reach the level of five dan pro. As a disciple of Saijo Sensei Catalin spent about ten years in Nagoya, Japan and was able to enjoy the other side of his master, singing Karaoke, and playing backgammon. Even I, who visited Catalin twice in Nagoya was able to sing and play backgammon with the sensei. What impressed me most was that every day Saijo sensei did his laps of swimming in the pool to keep fit, to compensate for the plentiful smoking of his beloved 'Peace' cigarettes.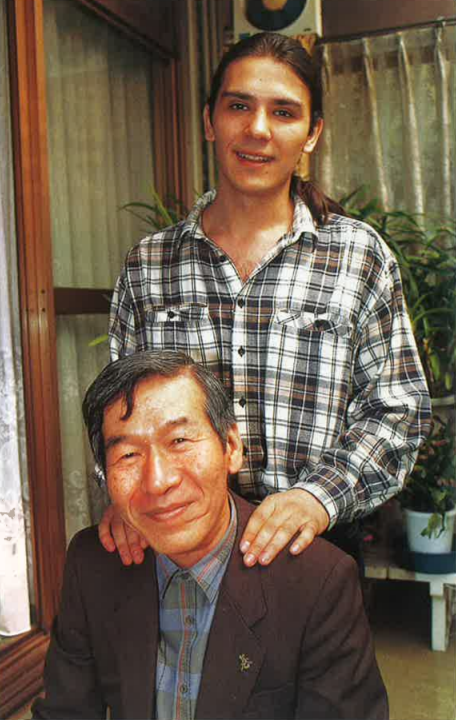 Maybe these cigarettes in the end shortened his life, but for me it is how I will always remember him, wiggling on his chair, with a big smile and enjoying his cigarette and figuring out how to explain in a nice way what his pupil could do better: "Very, very good, but did you consider this...?" We have lost a special person and a great teacher, but the good thing is, his lessons have inspired many go players forever.
Thank you for this, sensei!
Interview with Saijo Masataka at the congress 2009 in Groningen