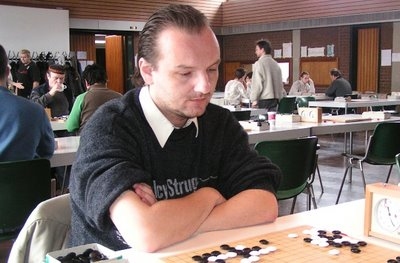 Dear Go-friends,
I find it difficult to write these sad news. At the age of 50, our friend and European top level Go player, Radek Nechanicky, has left us forever. If you knew him, please give him a silent remembrance.
When I was 9 years old, my friend invited me to visit a Go club. I was looking forward to it, because this was an opportunity to meet Radek Nechanicky, who was one year older than me. In our small town of Nymburk almost everybody knew him, even though not so many people even heard about the game of Go. About 6 years later I started to play on tournaments and I got to know Radek personally. Very friendly boy, who was liked by all the people he met. Since then I have always been amazed how many friends he had. Every time we visited a Go event together, there were a lot of people, who wanted to greet him, talk to him or simply see him in person. I have never met anyone, who would not like him and sometimes his popularity was even even hard to understand for me. Radek had his own personal charm, thanks to which he was welcomed everywhere he came. And he kept this charm until the end in June 2022.
Radek's playing style and knowledge of Go were so unique, that they were hard to understand for weaker players and widely respected by the stronger ones. There is probably nobody on European top level, who have never got beaten by Radek. He played less tournaments during the recent years, however he was still a very feared opponent and popular companion for everybody. I have heard many times strong players re-evaluating their chances in the tournament after Radek showing up without pre-registration. I will not name here all of Radek's best results and success, because life is not about statistics. If you want to know, how many championships Radek has won, you can easily find it in a database. However, if you would like to find, how many tournaments games Radek has won, it's probably a mission impossible. There has been so much of Radek's success in the game of Go, that's hard to count it.
Life is about how a human get accepted by other people. What will be left after him. No numbers or statistics, but a lot of happy memories and enlightening gatherings. And from this perspective the life of Radek was definitely very inspiring and interesting. I will never forget you!
One of the most famous Radek's games – bronz medal match on World Youth Championship 1988 in Paris: