Recently, DeepMind has published new insights into the Lee Sedol versus AlphaGo matches. Fan Hui 2p, Gu Li 9p and Zhou Ruiyang 9p reviewed the games extensively, and through AlphaGo's own judgement – its estimation of win rates after certain moves – we get a better understanding of its power. Part of the publication is the first disclosure of three spectacular games that AlphaGo played against itself, prior to the Lee Sedol showdown.

In the article AlphaGo and the future of go: interviews with top European players we asked some of the best European players how they experienced the AlphaGo matches and how they think computer programs willl influence the future of go.
In this sequel, we talk more with Hungarian go player Diána Koszegi and the people she works with every day: the teachers and students of the international go school BIBA in Gunpo city, Korea.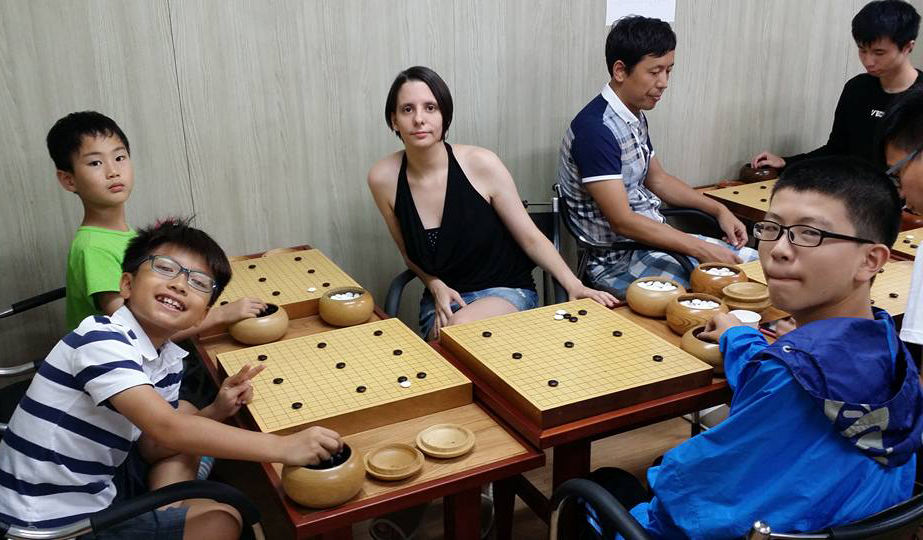 About Diána Koszegi 1p:

Diána Koszegi (
Budapest, 1983) started playing go at the early age of nine. She was taught by her father, Sándor Koszegi, who is an enthusiastic go player himself. Sándor Koszegi had been teaching go in elementary schools for about a decade, and by helping her father during the lessons Diána got used to teaching beginners. When she reached her father's level of shodan, shortly before her twelfth birthday, they found her a new teacher in Tibor Pocsai 6dan – European champion in 1988 and multiple times Hungarian champion – who taught her for several years to come.
In 1996 Diána met professional go players Yasuda Yasutoshi 9p and Yuki Shigeno 2p, who became her inspirations, guided her and introduced her to the right people.
In 1997 she visited Korea for the first time to play the 1st World Women Amateur Baduk Championship, taking fourth place, edging out Japan on fifth place. In the same year she finished second in the 2nd European Women's Go Championships.
In 1998, at the age of fifteen, Diána Koszegi took ninth place in the World Amateur Go Championships in Tokyo. Following these remarkable acchievements, she received invitations from both Japan and Korea to study as an insei. Her parents however decided that she was still too young.

In 2000 Diána Koszegi became the European youth champion and the Hungarian champion.
In 2001 she began studying go by herself. That year Diána studied in Japan for six weeks, made possible by the siblings Kobayashi Chizu 6p and Kobayashi Satoru 9p.
In 2003 she started computer and mathematical sciences at ELTE university in Budapest, but studying go as an insei was her real goal and the dream was still alive. In between her studies, she took part in the World Amateur Baduk Championships in Incheon, Korea. This is where she met Eo Jong Soo 7d and was invited to join the Kim Won Baduk Academy.

Finally, in January 2004 Diána's dream came true: she left for Korea to study go at the Kim Won Baduk Academy. Unfortunately, problems with extending her visa only allowed her to stay for three months. She traveled back to Europe, where she played tournaments, taught go on the internet and did a weekly go workshop in Budapest, only to return to Korea in March of the following year.
With the help of professor Nam Chihyung 1p Diána joined Myongji university – renowned for its Baduk studies – in Seoul in 2005. This allowed her to obtain a student visa. She tells us: "at the time I could not speak the language and nobody spoke sufficient English either. Besides me there were two other foreigners at Myongji – a guy from Thailand and one from China.
[..]
Myongji never really was my goal: I wanted to study in a go academy like I had done for three months before. Thanks to professor Nam I could could try the test to become younguseng."

Diána passed the qualification tournament in May 2005 and became younguseng, the Korean equivalent of the Japanese insei: a top go student with the aim of becoming a professional player. Busy times were ahead, balancing her studies at Myongji university on weekdays with the younguseng league in the weekends.

Advised by her friends Kim Seungjun 9p and Mok Jinseok 9p, in December 2006 Diána decided to focus solely on go in the coming year, to improve enough in order to become professional. Kim Seungjun and Mok Jinseok talked to the teachers of the Yang Jeaho Baduk Academy, a place where they played themselves. They arranged with Yang Jeaho Sabomnim for Diána to study in the school, who trained like the other kids from 10AM to 10PM. During this time she moved to an apartment close to the Hankuk Kiwon to be able to fully concentrate on go.
In January 2008 Diána Koszegi was promoted to 1dan professional by the Korean Baduk Association. Later that year she graduated from Myongji university.

For Diána's take on the AlphaGo matches, please read her interview in the article AlphaGo and the future of go: interviews with top European players.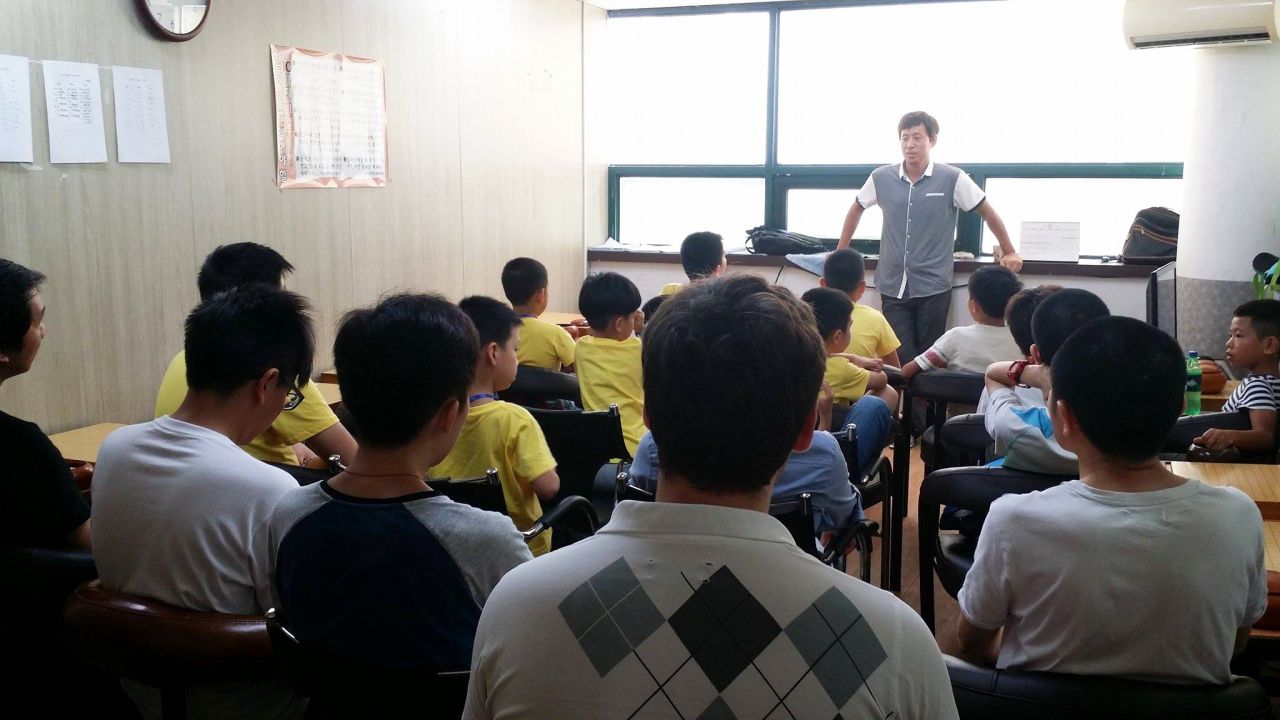 About BIBA:

In January 2011 Diána Koszegi 1p and Kim Seungjun 9p founded BIBA – Blackie's International Baduk Academy. This meant that once again there was a place for foreigners to study go in Korea. Several schools like King's Baduk Center and the International Baduk Academy (IBA) had been closed by 2010, but a foreign demand for studying go in Korea remained.
In cooperation with Seong Gi-jeong 5d, the director of the Jinseok Baduk Academy in Sanbon (Gunpo city, about half an hour by subway from Seoul), Diána and Kim Seungjun started BIBA in the same building. The interaction between the Korean kids of the academy and the foreigners of BIBA would prove to be mutually beneficial. In 2013 both Jinseok and BIBA moved to another place, sharing the school once again.

Since its beginning in 2011, BIBA has taught about one hundred thirty students from thirty different countries, of which a substantial part is formed by Europeans. In this sense, BIBA is one of the most important go schools for Westerners in the East. In December 2015 a BIBA Hong Kong branch was founded.

Interviews with teachers and students:

We asked some of the BIBA teachers and students two questions:

1. Where were you when you found out that AlphaGo beat Lee Sedol? How did you experience the matches and how did you feel about the results?

2. What is the future of go? Is it positive or negative and why do you think so?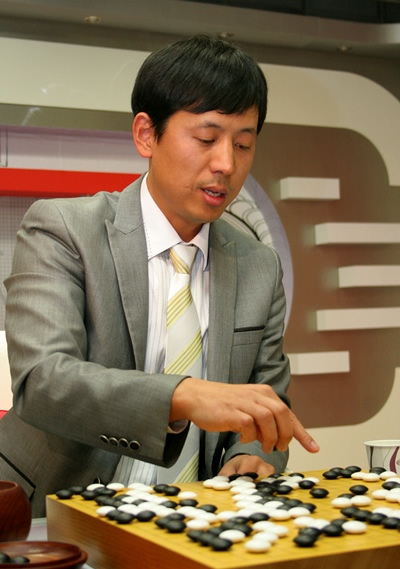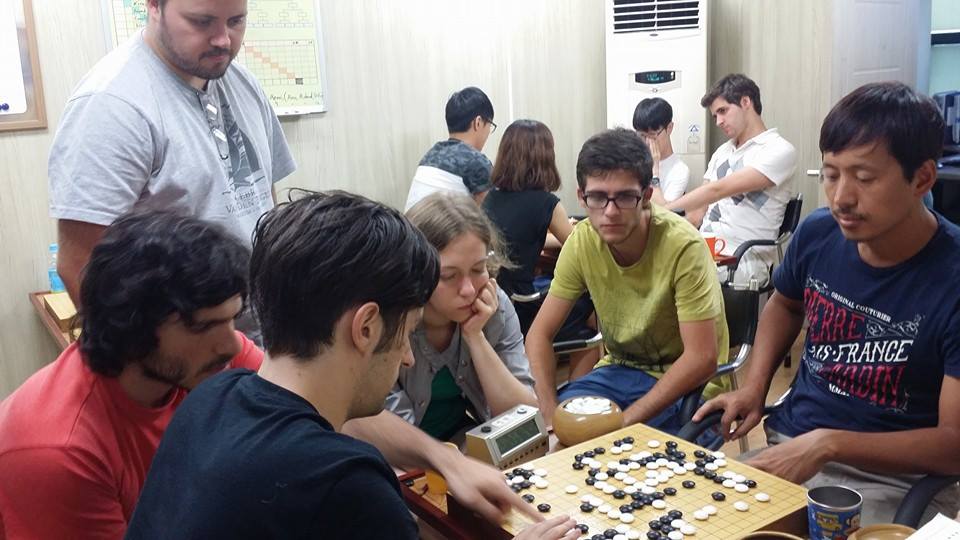 Kim Seungjun 9p (nickname: Blackie)


- Co founder and head teacher of BIBA

I was in Wuhan, China, doing live commentary on the Lee Sedol matches. I had seen AlphaGo's games against Fan Hui and judging from those games, like all the professionals in Korea I expected an easy win for Lee Sedol.
After game one I was very surprised. After AlphaGo won the second game as well, I was even more surprised. The final result of 4-1 shocked me deeply.

It is hard to feel happy about a robot beating humanity, but it has already happened.
And the gap between humans and computer programs will only continue to grow. That's a given. However, thanks to AlphaGo many people discovered the game of go.
The fact that computer programs are now stronger than the best human players won't negatively effect go. People will still watch matches played by humans and they will still enjoy playing the game. We can't fight the superiority of computer go programs, just like humans can't compete with cheetahs in 100-metre racing. Cheetahs are obviously faster than us, but we still enjoy the Olympic Games and cheer for our fellow man.
Many things have disappeared because of bots, but go won't.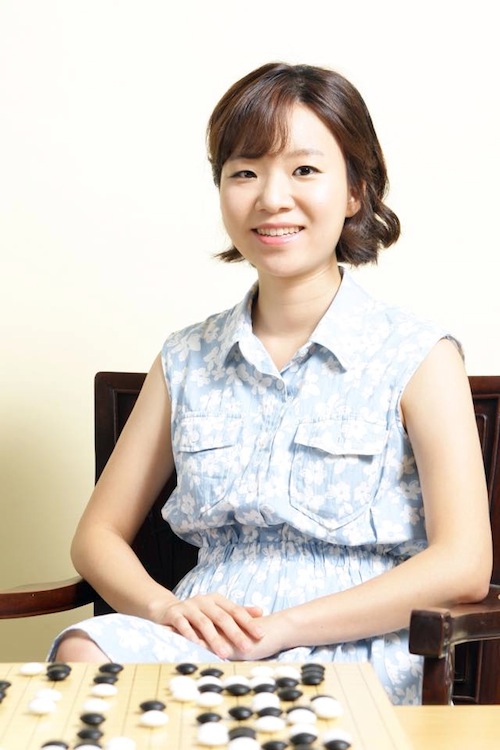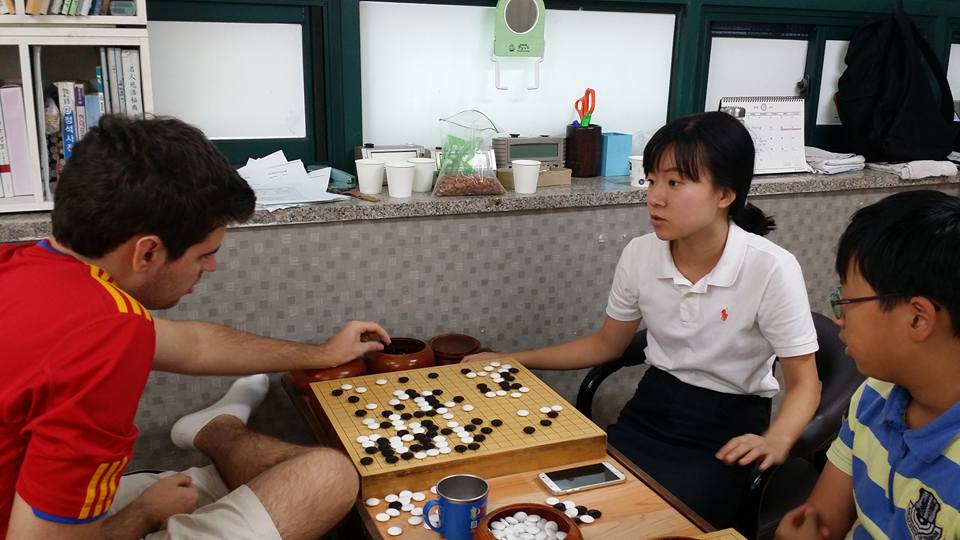 Kim Yoonyoung 4p


– BIBA teacher and member of the Korean national team

I was in BIBA when they were playing the first match, watching the live stream together with the students. I couldn't believe that Lee Sedol lost. The next day, when the second game would take place, I traveled to Beijing for the Bailing Cup. On the way there all the Korean professionals were discussing the match: they seemed shocked. As soon as we arrived in China, we started watching the second game. Lee Sedol lost again, and it looked like he didn't even stand a chance.
After that second game I realised that AlphaGo is strong and that it deserves to win. When Lee Sedol managed to win the fourth game, I felt touched.

I think the future of go is positive. The AlphaGo matches were a great advertisement for our sport. Many people were not interested in go before, or did not even know about it. Thanks to the exposure, in Korea more and more people started to take an interest in the game.
The beauty of go is that you can approach it in many different ways. You can view go as a game, but it can be education and a mind sport as well.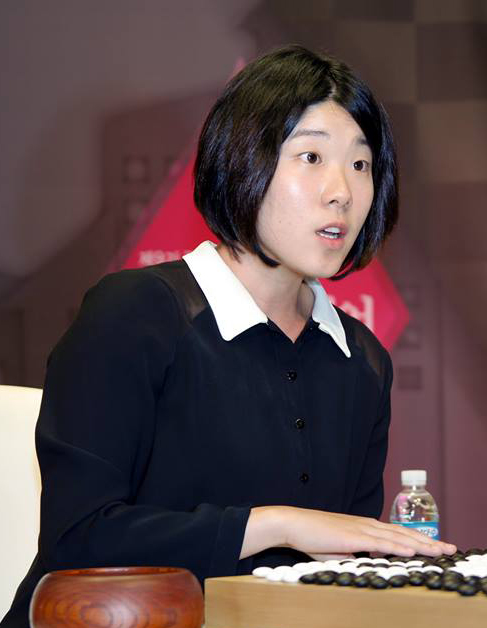 Park Jiyun 4p


– Part-time BIBA teacher and member of the Korean national team

The result shocked me. At the time I was in Beijing for a tournament - the Bailing Cup. I was there with many other professionals and we watched the AlphaGo games together.
After AlphaGo won the first two games, I still believed that Lee Sedol would win the match. But after he lost the third, I prayed that he would win at least one game. When he did, I was very glad.

About the future of go: it depends. If we look at it from a descriptive or objective point of view, we won't be able to beat computer programs anymore and in that sense go will become uninteresting.
However, I believe that in the near future, because of machines we will lose the necessity to think for ourselves. Actually, this is already happening. Go can provide a counterpart: it forces us to think deeply and practice our own mind, following up on our own decisions. Go also brings us together, and lets all of us communicate: children, adolescents and the elderly. I believe that go makes us better as people and so makes for a better place!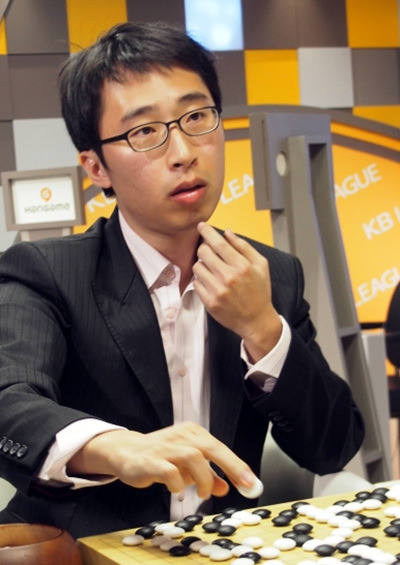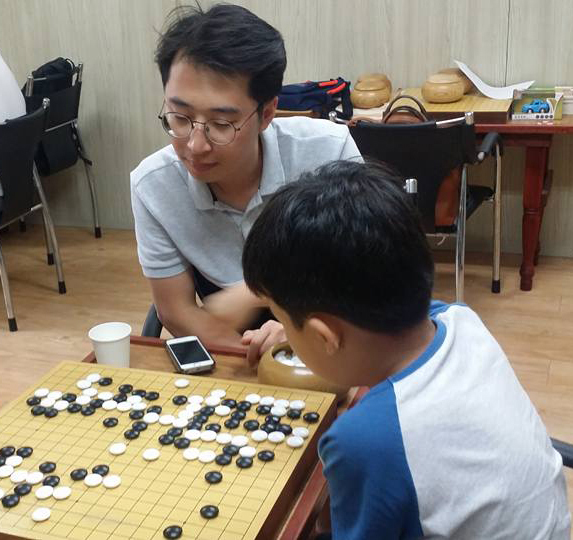 On Sojin 7p


– BIBA teacher

I was commenting the first game live at Myongji university. During the game commentary a student asked me: "who do you think will win?" I answered that Lee Sedol would sweep the matches without difficulty, and that it would be impossible for the artificial intelligence to play a well balanced game, taking into account the overall board position.
I was stunned. I couldn't have imagined such a result.

After the five matches had finished, I didn't know what to do. I didn't know whether I should continue to play go or not. But on the other hand, I saw the bright side for go. Using AlphaGo's moves, like 15 and 37 in game two, we can effectively improve our skill and creativity.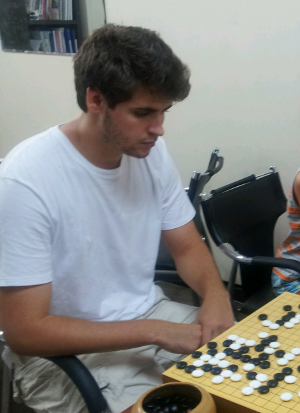 Manuel Velasco 6d -

Canada
- Long term BIBA student: studied for five months in 2012 and from July 2015 onwards

At the time of the games we were studying in BIBA. Although we usually follow a study plan consisting of life & death (tsumego) in the mornings and game play and reviews in the afternoon, it was put on hold to watch this historic event. During the series, emotions were all over the place. At first, many professionals condemned AlphaGo's moves because they didn't follow traditional thinking and wrote off Lee Sedol's losses as poor play on his part. However, by the third game it was clear that AlphaGo appraoched the game differently and was extremely strong.
When Lee Sedol won the fourth game I felt elated that humanity had landed a blow and that despite having lost the series, many people believed that Lee Sedol had "solved" the program and would win if it was a best of seven. But these hopes were quickly extinguished by the fifth game. To be truthful, I was somewhat disappointed in humanity's loss and in the moment I felt that go had lost a certain prestige, as it had been the last board game in which artificial intellingence couldn't match humans. But looking forward, I am hopeful that the worldwide exposure and interest in the game caused by this event will help push go to new heights.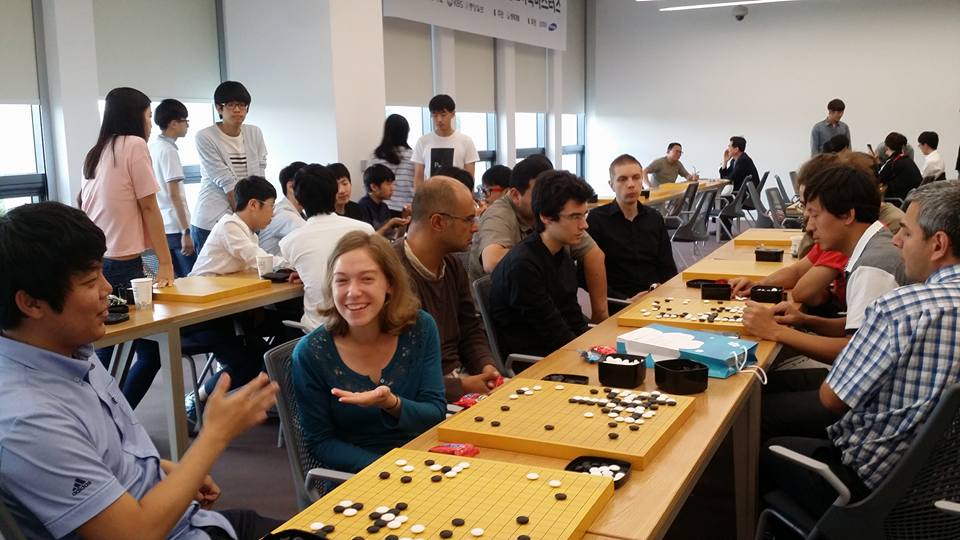 Anastasia Khlepetina 3d -

Russia
– Current BIBA student: started about one year ago, was 1d when she started

I was at BIBA. We were watching the live commentary of game one on YouTube and relayed the game together. I didn't expect that AlphaGo would beat Lee Sedol, so it was quite a shock.
When I saw the joseki that AlphaGo had chosen, I thought it was going to be an easy win for Lee Sedol. A minute later however, it suddenly turned out that Lee Sedol was in trouble. That's when I got scared that Lee Sedol could lose, and he did.
Afterwards I thought that maybe he underestimated AlphaGo and that the next game was going to be a different story. But.. you know what happened. The third game was the same thing. When I saw the beginning of game four I almost lost hope immediately. I had to leave for a while, but when I came back, a surprise was waiting for me: the move that broke the program! Unfortunately it was the only game that he won.

AlphaGo made a real impact. Professional players started trying some of the AlphaGo moves in their games, and experimented with ways to play against them. I don't know what the future of go is, but I just hope that machines are not going to take over the world!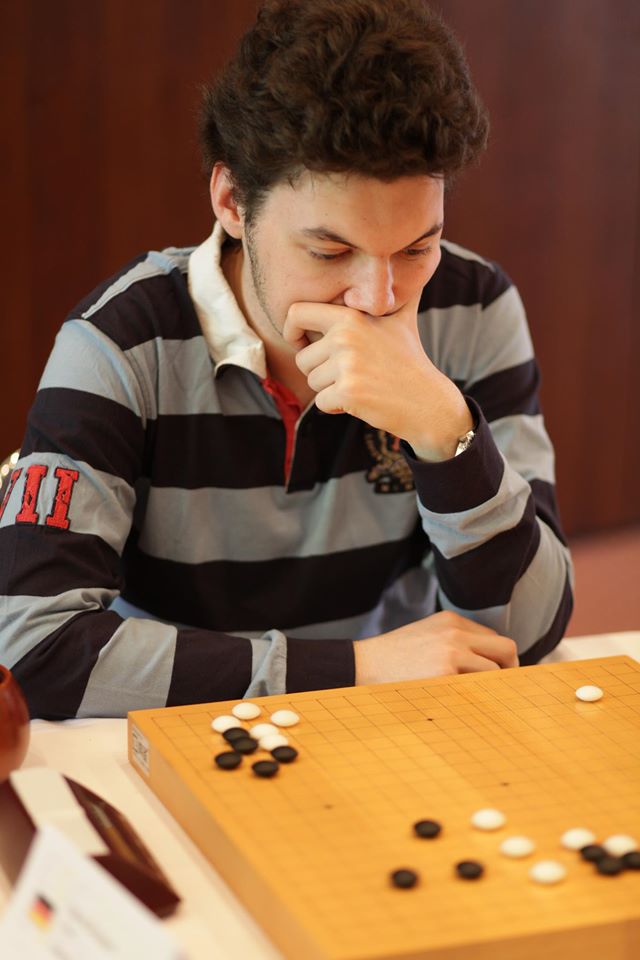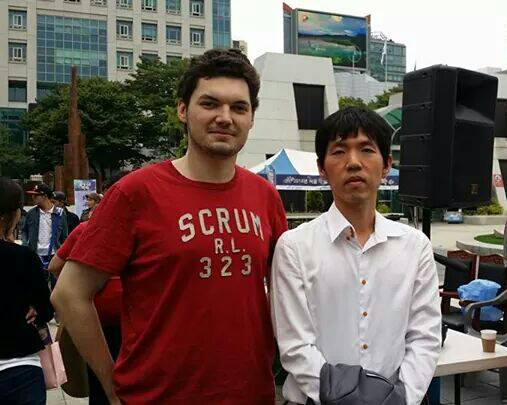 Benjamin Dréan-Guénaïzia 6d -

France
– Studied in BIBA for five months from September 2014

I was in France when the matches were played, and was very motivated to follow the event. I mostly watched the reviews by Michael Redmond and other professionals.
I was expecting a clean 5-0 win from Lee Sedol, naïve as I was.
After the first game, I still had hopes. I thought that perhaps Lee Sedol had been testing the bot. After the second and third game, all my hope vanished. I felt that Lee Sedol had tried to push the bot to its limits, perhaps not playing his own game to the best of his ability.
That being said, all games were amazing to watch and seeing the entire worldwide go community interact truly was a beautiful thing.

The future will be very positive. When IBM's Deep Blue defeated Garry Kasparov twenty years ago (1996), everybody in the chess community thought it would be the end of chess. But it turned out to only be the beginning: new chess theories saw the light and fresh strategies were invented.
The same will happen with go. We were all upset at first, but now we can already see professional players studying and analysing AlphaGo's games.
The only possible downside I can think of is the proliferation of bots on online servers, all of them being around 7dan or stronger. It is quite frustrating not to know if you're playing against a computer program or against a person. Perhaps new regulations regarding online tournaments will need to be enforced.


Amir Fragman 4d -

Israel
- Current BIBA student. Also studied in BIBA from September to December 2014

I was in university, watching the games between classes on a go app. I reviewed the games by myself and also watched the AGA reviews on YouTube.
After Lee Sedol lost the first game I was very surprised. On the other hand, Lee was testing the program and was punished for his mistakes. After AlphaGo won the series by 4-1 I felt a bit sad, but also intrigued to see what AlphaGo is still able to achieve.
I am very positive about the game's future. I hope we can enjoy new strategies and new points of view.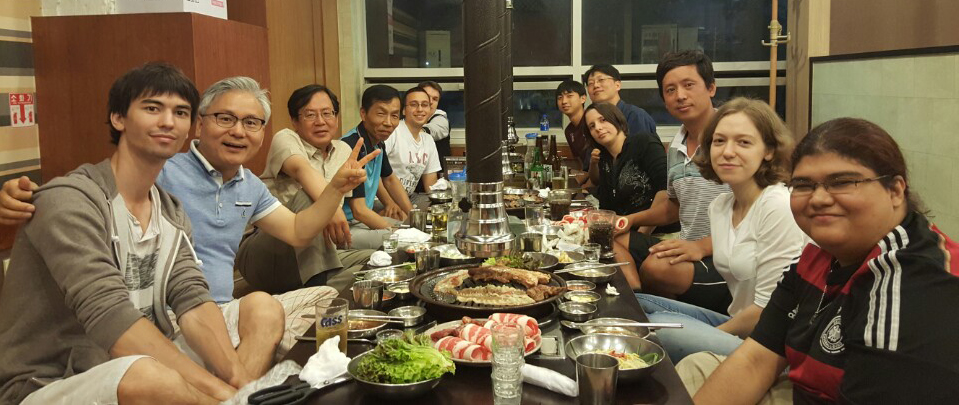 Rémi Campagnie 5d -

France
- Took part in the 2015 BIBA camp and was a part-time student during the AlphaGo matches

I had school during game one, so I had to follow it on my phone. After classes I went to a café to watch the end. For all the other games I went to BIBA, where we reviewed them together with the teachers and the students. It was really stunning to see AlphaGo play like a human and it was exciting to see its new moves - which are now used by professionals in their games.
Before the showdown I was sure that Lee Sedol would win, but after game two I thought it would end in 5-0 for AlphaGo.

In Western countries many people didn't know what go is prior to the matches. The AlphaGo event was very helpful for the promotion of go, regardless of the result. It was in France's biggest newspaper. The fact that AlphaGo won with unorthodox moves motivated many players to study the game harder and with a different point of view. Go programs will become a good tool to learn faster.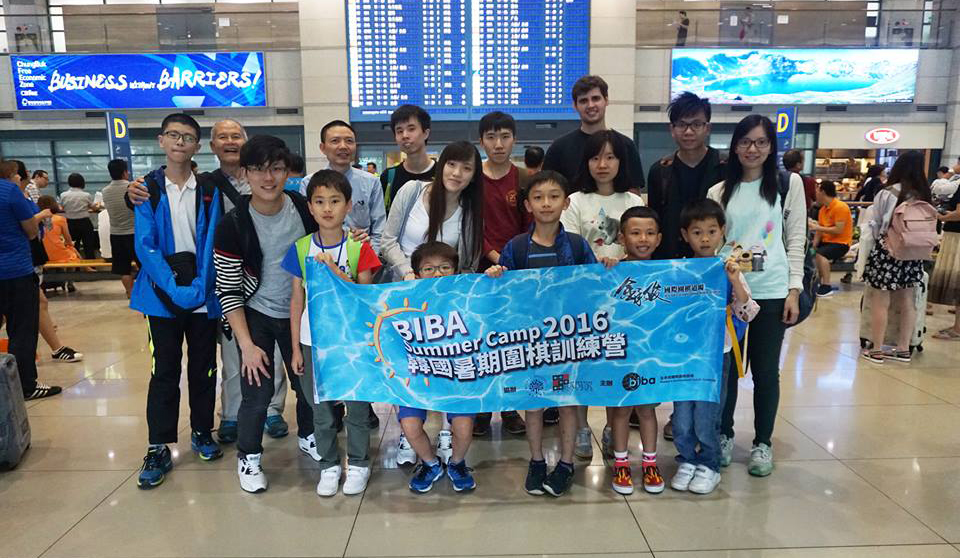 Kanno Hiroki 5d -

Hong Kong
- Former BIBA student and founder of BIBA Hong Kong

When I studied the games of AlphaGo versus Fan Hui, I felt AlphaGo's powerful calculation. But I wasn't sure if AlphaGo's calculation skills were better than Lee Sedol's or not. My guess was a 4-1 win for Lee Sedol.
After I saw the first game of Lee Sedol versus AlphaGo, I was surprised and sad. I had actually been watching the game live until move 81 – the double approach to AlphaGo's 4-4 stone - and I felt that Lee Sedol was leading at that point. I had to leave and stop watching the game, because I had a lesson to attend. When the other BIBA Hong Kong teachers suddenly told me that Lee Sedol lost his game, I was frozen in shock and couldn't say a word.
I still can't believe that Lee Sedol lost the match 1-4, but when he won the fourth game I felt excitement and almost cried at the same time.

I think the future of go is positive. AlphaGo helped us humans to improve. Lee Sedol is a good example: after he played AlphaGo, he won nine straight tournament games and also won the Maxim Cup. In those games of Lee Sedol succeeding the AlphaGo event, we can find many moves that look like AlphaGo's style.
Humans now have a new study direction to follow, in order to improve our go skill. Is there unprecedented theory or judgment yet to be discovered? I am curious to see and will await the answer in the future.

Made by BIBA: the secret files
As an extra to the article, BIBA has provided us with one of their lectures: the ins and outs of the new opening that AlphaGo played against Lee Sedol in game five.
Made by Kim Seungjun 9p, translated by Diána Koszegi 1p and proofread by Manuel Velasco 6d.
Enjoy!

Game 5: AlphaGo's new opening

Final note:
Have you studied at BIBA? What was it like? And where and how did you experience the AlphaGo showdown? We would love to hear your story!