More than half a year has passed since the first issue of the European Go Journal was published and released in early March. The project has developed significantly since then. Let me share some highlights with you.
The Journal caught the attention of Western go fans rather quickly and within a month there were around 100 subscribers on Patreon –
https://www.patreon.com/europeangojournal
. Now we see roughly twenty newcomers a month and have almost 250 readers around the world. The subscription is very simple: go to the Patreon page, choose your preferred method of subscription, print or digital, and that is it. Recurring monthly payments are charged automatically by Patreon, and we send you a copy of the Journal at the beginning of each month.
I believe it is not only the number of subscribers, or countries they come from, that has grown but also the quality of the content we produce. The
Journal's team
has grown into ten people including writers, proofreaders, a photographer, and a web developer.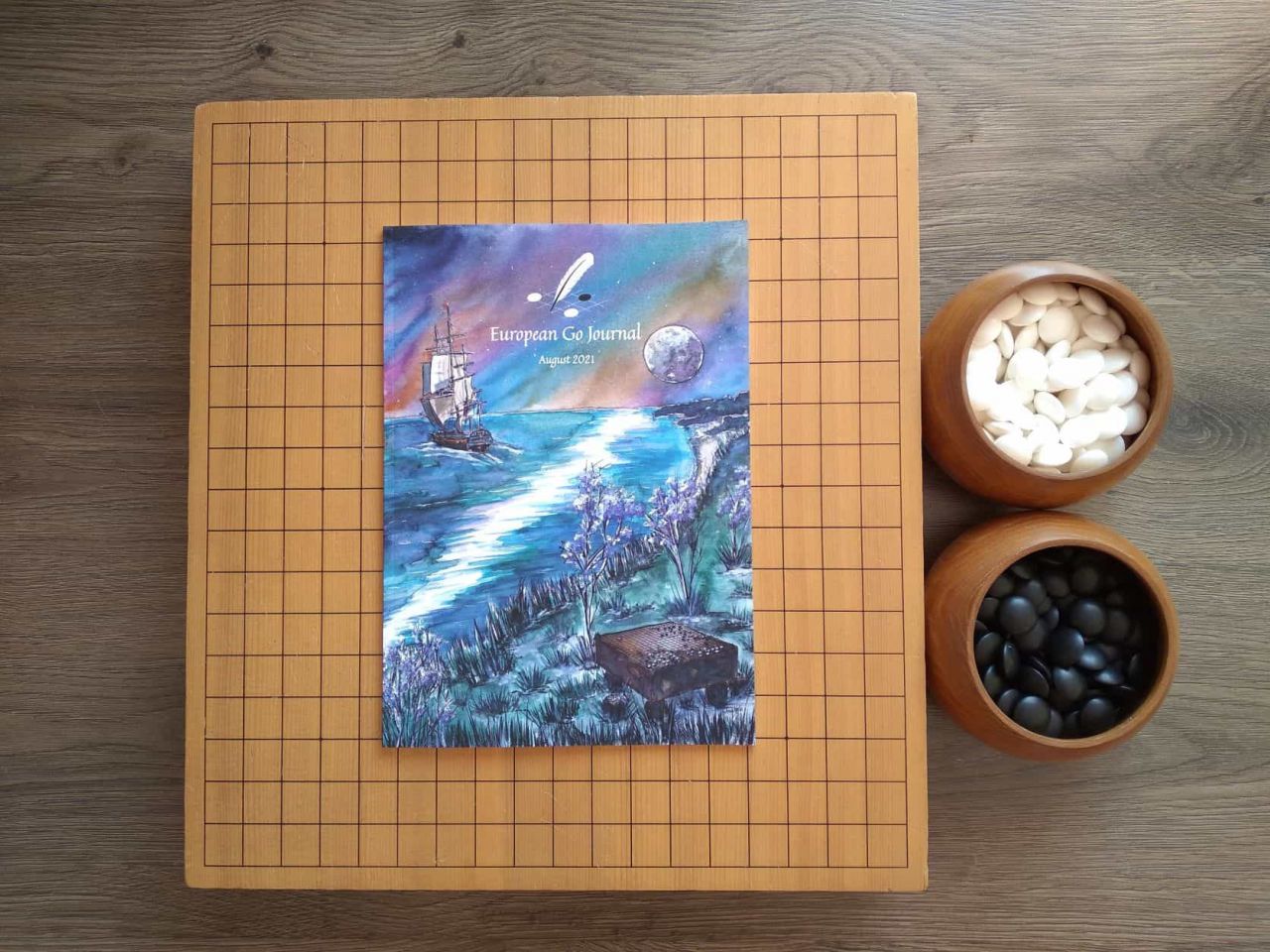 As well as the members of our team, many others have contributed to the project by agreeing to respond to interview questions or writing one-off articles such as Lukáš Podpěra's "Corona Cup Trilogy" in the
April edition
, chronicling the organization of one of the largest online European go tournaments.
So much content has been created and so many people have been involved that if I mention everyone you would probably just stop reading this article… I am very thankful to all who make the Journal possible. I am glad that there are go players with a desire to share their thoughts and experiences with others. I see this as one of the missions of the Journal. We all live in different cities, countries and continents, but even if we are neighbors, you and I will still see the same thing differently. Whether by reading someone's text or seeing a piece of art, we dive into the beauty seen and expressed by others. This brings joy and broadens the mind. The writing and reading of the Journal, for me, is a type of conversation we are all having together. This is incredibly important to me.
If you ever feel like you want to share something with the readers of the Journal – feel free to contact us. Here are some ideas: it might be an artwork or a photo depicting go, a tournament report or an article about your favorite place to play go.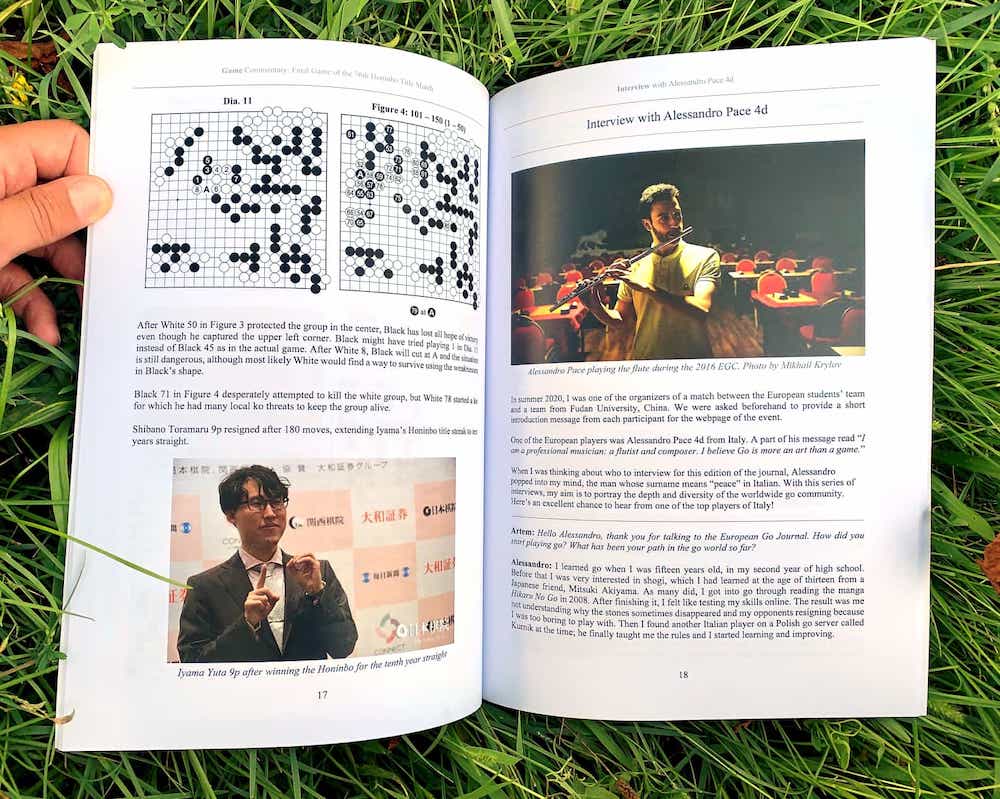 Forms of Distribution
The Journal provides both print and digital forms of distribution. Nowadays, reading from your laptop or smartphone's screen is way more popular than print. Yet, I find print to be timeless. Take an actual book in your hands, read a few sentences and leaf through the pages with your fingers. It feels different from reading on a device, doesn't it? I am glad that we found a way to provide our subscribers with a choice so that everyone can decide what fits them best.
Go Club License
The Journal has a special offer for go clubs or any other organized go communities – the Go Club License. A representative of the go club acts as an intermediary party between the EGJ and club members. They collect the money, pay for the subscription, receive the files from us and redistribute them among the club members with a subscription. In this case, a discount of 50% is provided: each reader pays half what they would pay if they subscribed individually.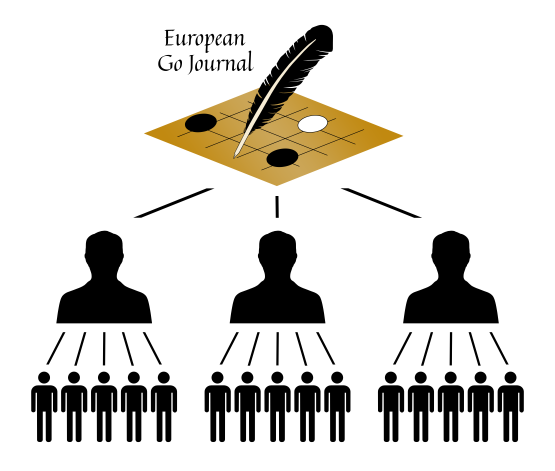 "Go club" can mean any kind of organized go community. For example, the
Irish Go Association
subscribed with five members and Antti Törmänen's
Nordic Go Dojo
subscribed with twelve members. In total, at the moment we have 45 readers signed up via the Go Club License policy.
The philosophy behind this form of distribution is the following. Go clubs and online go schools have pre-established networks and we believe we can reach more readers this way. By providing a 50% discount we encourage a larger audience to subscribe.
Free Content
You must have noticed that every product usually has some version or sample available free-of-charge. For example, software usually has a trial period.
AI-Sensei
has a free version available with a minimal number of playouts used by the AI go program for analyzing game records. This is normally done with a promotional purpose, and afterwards there is a chance that users may want to buy the full version. The ratio of free and paid content varies from product to product.
At first, my idea was to publish different kinds of articles from the Journal periodically, to show potential subscribers the variety of content we provide. That would also make the content on the website of the European Go Federation (EGF) richer. For instance, we have already published articles such as
The 41st WAGC: Interviews with Top European Participants
and
Tesuji: a sample article from the European Go Journal
.
In Europe, we have many go tournaments and events taking place, but unfortunately their organizers or participants rarely have the impulse to write an article for the EGF website about the event. Isn't it a pity when a wonderful event has passed and the people who didn't get a chance to participate cannot read about it and see some photos?
In the Journal we publish articles about all the biggest European go events. Recently I realized that this would make perfect free content and it fulfills yet another mission of the Journal: to share the news of the biggest European go events whenever there is no mention from another source. I write these articles for the Journal, so it's not hard for me to share them in one more place. And anyways, the European Go News chapter is only a small part of the Journal. I don't believe subscribers will disagree with my desire to share some of its content with a wider audience.
On the subject of free content: in case you don't already know, the digital version of the
first issue from February 2021
is available for download free-of-charge.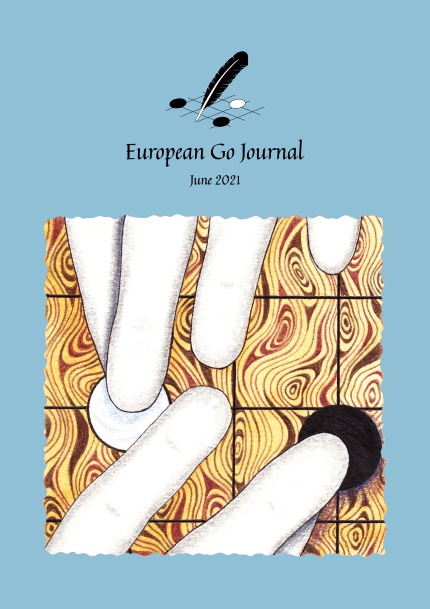 Sponsorship
One more exciting direction is sponsorship. I first came up with this idea while discussing the
future European Youth Go Championship
with its organizer – Cătălin Țăranu. At that point, there were no prizes planned for the top-finishers, so I thought: why not provide a subscription to the digital version of the Journal as a prize? There is no need for any financial investments from our side, and at the same time it would be a nice gift for the young champions. Needless to say, that would also spread the word about the Journal and there is a chance that someone who receives a free subscription would like the Journal and sign up to the commercial version after the trial period ends. It's a win-win situation for everyone: the organizers, participants and the Journal.
Since then, I have had a few similar sponsorship proposals from tournament organizers – and I agreed to each of them. If you organize a go tournament, feel free to let us know if you want to offer a subscription to the Journal as an additional prize.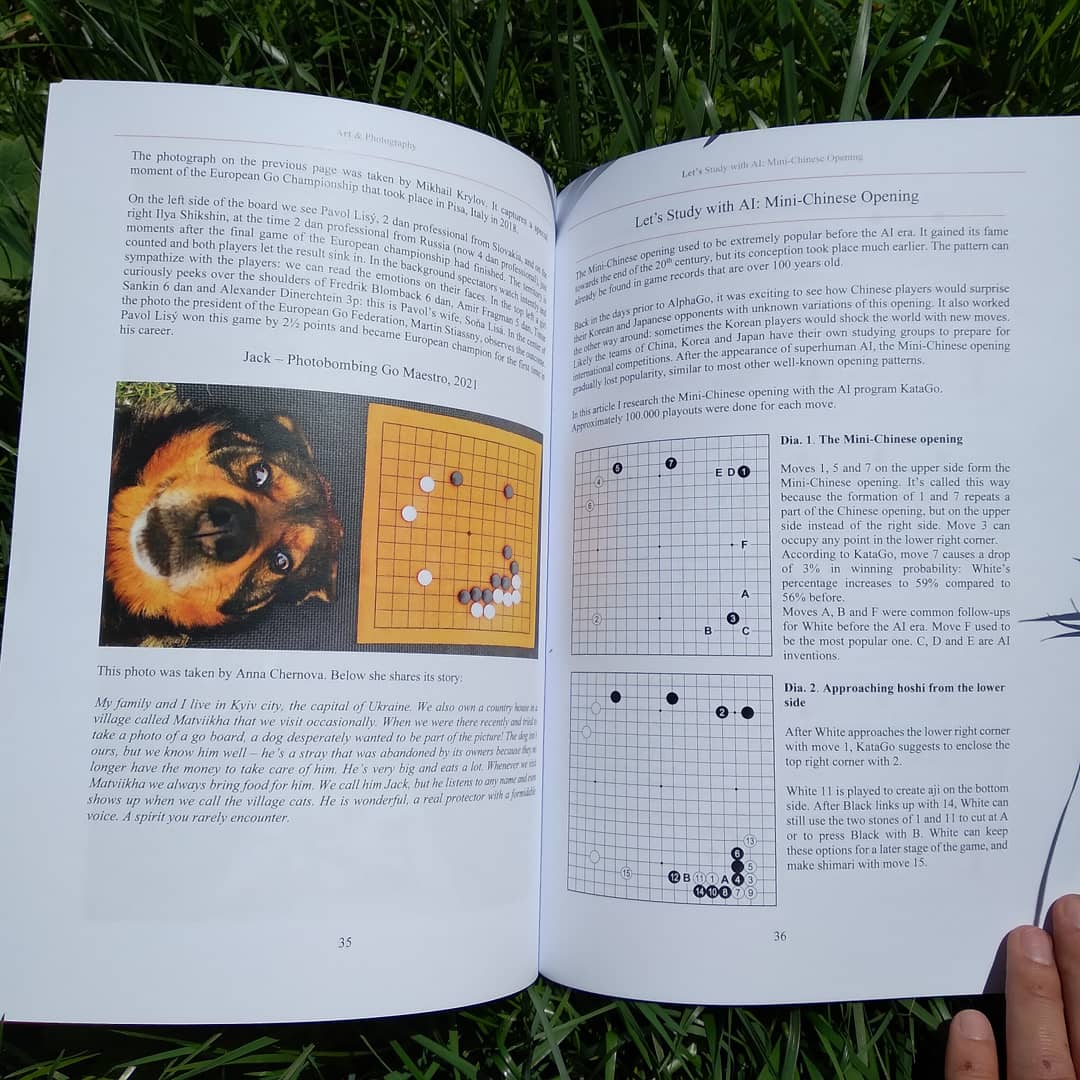 Website
Thanks to my brother, Mykhailo Kachanovskyi, the Journal has its own website now:
https://eurogojournal.com/
. I have to say that the website may look simple, but in fact it has been a lot of work. I am very thankful to my brother for his help.
At the moment the website performs several functions:
Informational – you can read about the Journal and its team and see some statistics.
Online shop with past editions – you can find information about each previous edition of the Journal and buy it in just a few clicks. You will receive the accompanying digital version automatically via email after successful payment. And, if you order a print copy, you will receive a notification via email after we send you the parcel.
I will not write much about the website: I feel it speaks for itself. Just open it and click around a little – I am sure you will enjoy it.
In the future, we plan to develop the website into a true home for our project, involving:
Moving the subscription system from Patreon to the website;
Developing an option to discuss editions of the Journal and to leave some public feedback;
Creating a newsletter;
Implementing other useful features.
To celebrate the announcement of the Journal's website, we have opened one of the articles from the past editions for free access. We have so much great content that it's hard to pick only one article. However, this one has been on my mind since it was published and I received feedback from many people about it. The common thing about the feedback is that everyone used the same word to describe the article: epic. I agree, it really is an epic story of a great European professional –
Mateusz Surma
2p. Maybe one day the Journal will get so rich that we will record a movie about Mateusz – his story is worth it! For now, enjoy reading it:
Interview with Mateusz Surma 2p
.
To end, I would like to thank all our subscribers and everyone who helps in the creation of the Journal: together we are running a fantastic project, thank you very much!