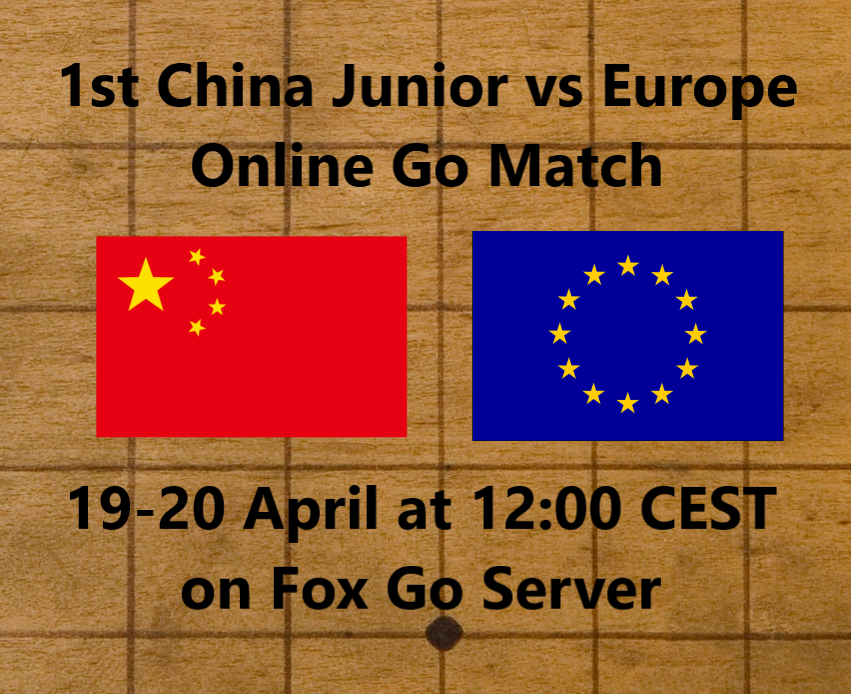 It's been just a few days the
1st China vs Europe Online Go Tournament
finished. China won the match by 10 points to 2 , read the
review of the tournament
for more information.
On April 19 a new competition is starting. It's called
1st China Junior vs Europe Online Go Match
.
This time the team of Europe will play against the Chinese Junior National Team. Each team will have ten players. Two rounds are scheduled: one on April 19, and one on April 20, both at 12:00 CEST. Each round there will be ten games played: ten European players will be paired up against ten Chinese players, and will play simultaneously. For more information please see the official webpage, the link is given above.
The games are going to be played on the
Fox Go Server
. For those of you who don't know it yet, let me explain briefly what it is. Fox is one of the most popular Go servers in the world at the moment. Such top world professionals as Ke Jie and Park Junghwan are practicing on Fox, and many others too. Naturally, as it is a chinese server, it is especially popular among chinese players. Yet, there are innumerous strong players from other countries as well. I personally use only Fox for practicing Go online.
Here
you can download a client.
If we take a look at the teams, the
European team
didn't change much since the previous tournament: eight players remained the same, and just two others were replaced. The
Chinese team
is completely different this time. It is a team of professional Go players. If I understand correctly, as these players are members of the Chinese National Junior Team, it means they are among the best professional players of maximum 16 years old age in China. This means, it's going to be not easy at all for the European team... My estimation is the following. There will be 20 games played in total during the two competition games. If we win at least 1 game, it will be already a brilliant result.
When a pairing becomes available, it will be published at the
Pairing / Results webpage
. All the game records will be uploaded there after the games are finished as well.